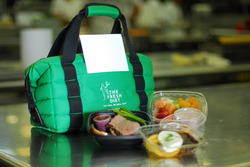 We like to think that we did the assists for that game
Miami Beach, FL (PRWEB) February 22, 2010
The top Ten college athletes who have been selected to compete in the National Football League's Scouting Combine in Indianapolis have been keeping their bodies in tip-top shape on the gourmet diet delivery service, The Fresh Diet.
These athletes, who have been receiving the nutritious meals everyday for the last six weeks, will compete for five days, beginning February 25, 2010, in the hope of becoming a NFL draft pick.
The Fresh Diet has a history of training NFL champions. Steve Smith, wide receiver for the New York Giant and a second round 2007 NFL draft pick, uses the service even when he's off the field. Smith is the first Giant to score a Pro Bowl touchdown since Tiki Barber had a one-yard touchdown run in the 2006 game.
"We like to think that we did the assists for that game," says Zalmi Duchman, CEO of The Fresh Diet. "But Steve and all the athletes who we service know that they play their best games when they eat healthy nutritious food."
By providing clients with fresh, daily hand delivered, gourmet meals, which unlike other diets are not frozen, freeze-dried or vacuum packed, Fresh Diet has developed a loyal clientele in the NFL Their unique menus are mouth-watering as well as healthy; including such delectable breakfast meals such Hawaiian macadamia nut whole wheat waffles for breakfast.
The Fresh Diet will provide daily meals for the following athletes during their five-day training run in Indianapolis: James Dray – TE – Stanford, Chris Bell – WO – Norfolk State, Vladamir Ducasee – OT – University of Massachusetts at Amherst, Joshua Hull – IB – Penn State, Junior Gallete – DE – Stillman, Arthur Moats – DE – James Madison University, Adrian Tracy – DE – William and Mary, Chris Hawkins - DC - Louisiana State and Levi Brown – QB- Troy.
They will receive daily meals from the Fresh Diet during the NFL Draft training at Perfect Competition and Test Sports Clubs' athletic development centers under the care of renowned performance trainer, Hillarie Scannelli.
The Fresh Diet serves thousands of meals in day to clients in over 10 cities nationwide. On February 28, 2010, the company will add Indianapolis to its roster.
The Fresh Diet is a system of nutritionally balanced and delicious meals that are made fresh and hand delivered to your door daily. Headquartered in Southern Florida since 2005, The Fresh Diet -- http://www.thefreshdiet.com -- now serves clients daily in Boston, Philadelphia, New York City Tri-State area, Washington, D.C., Los Angeles, San Diego, Chicago, South and South West Florida from company-operated kitchens in Chicago, Los Angeles, Miami and New York.
###