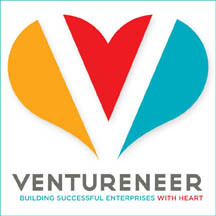 "Business owners and entrepreneurs need to think long-term, about how current choices affect future growth. This webinar provides tools to think strategically and lay the foundation for future growth." Geri Stengel, President, Ventureneer
New York, NY (Vocus) February 22, 2010
A dramatic increase in the value of a business doesn't happen by accident and it doesn't happen if the owner spends time only on the urgent and tactical without a strategy for future growth.
In a Ventureneer webinar, Declaring and Executing an Order of Magnitude Future for Your Business, business owners, entrepreneurs, and CEOs will learn how to achieve game-changing growth for their businesses.
This webinar will air from noon to 1 p.m. ET on Monday, March 8.
"Business owners and entrepreneurs need to think long-term, about how current choices affect future growth," says Geri Stengel, founder of Ventureneer. "This webinar provides tools to think strategically and lay the foundation for future growth."
Leading the webinar will be Jeff Silbert, Managing Director and Founder of Order of Magnitude Group. Silbert will show participants how to design an "Order of Magnitude" future. That future starts with Declaring a 3-Year Order of Magnitude Business Snapshot aimed at 10-fold growth in three years: 1 Order of Magnitude (OoM).
Silbert has more than 20 years experience in increasing revenue, building brands, and increasing shareholder value, which he has done for companies such as M5, a market leader in providing Hosted Business Phone Systems. He writes about value creation on his own blog, Order of Magnitude CEOs, as well as a biweekly blog entitled The CEO's Ear for The New York Enterprise Report.
"Adding a zero to the value of your business is possible," Silbert says. "to get started business owners must consistently allocate time on making it happen, declare the future destination in writing, and consciously act towards making it happen."
Attendees will leave the session with:

The know-how to design their own 3-Year OoM Business Snapshot explicitly showing an increase in the value of their businesses
A first cut at creating their own 3 OoM Personal Keys to shape the tactical decisions that will make their 3 Year OoM Business Snapshot a reality
An innovative and iterative process to solve their sales problems and increase revenue growth
Ambitious CEOs, business owners, and senior executives seeking to radically increase the value of their businesses will benefit from this webinar
To register or for more information, visit Ventureneer.
About Geri Stengel
Geri is founder of Ventureneer, an online education and peer support service. An adjunct professor at The New School, she honed her online experience at companies like Dow Jones and Physicians' Online. Geri co-founded the Women's Leadership Exchange and is president of Stengel Solutions, a consulting service for social-impact organizations.
About Ventureneer
Ventureneer.com provides non profit and small business advice as well as entrepreneurial and non profit training through a new approach to learning: a blend of traditional, formal instruction with informal, peer learning that takes advantage of Web 2.0 technology to capture and share knowledge. Ventureneer's customized blogs, virtual classes, peer-to-peer learning, coaching, web events and articles help entrepreneurs make faster, better decisions for their enterprises.
About Order of Magnitude Group
Order of Magnitude Group is passionate about helping ambitious CEOs and owners of technology, web, media, and uniquely positioned professional service firms seeking to radically increase shareholder value. Offering advisory services focused on creating unique company and product positioning, along with go to market strategy and refinement as well as building lasting market identity and channel programs.
Media Contact:
Geri Stengel
212-362-3088
geri(at)ventureneer(dot)com
###