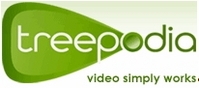 Many consumers now use video sharing portals as a way to research information about new products and get a close-up look at them before they buy. As such, retailers whose videos aren't listed on these sites miss out on tremendous sales opportunities
BOSTON, MA (PRWEB) February 22, 2010
Treepodia, an early market leader in automated online product video technology and services, announced today the immediate availability of Video Distributor, a cost-effective service that quickly uploads a company's entire catalog of online product videos to YouTube.com, Metacafe, Dailymotion and many other video sharing sites.
With videos ranking higher than ever in search engine results, Treepodia's Video Distributor helps online retailers improve their organic search rankings and drives more traffic to their sites. Offered as a stand-alone service or as an optional feature of Treepodia's Smart Video Platform, the service also allows e-commerce companies to link to specific product pages from video sharing sites.
"Many consumers now use video sharing portals as a way to research information about new products and get a close-up look at them before they buy. As such, retailers whose videos aren't listed on these sites miss out on tremendous sales opportunities," said Dr. Melody King, vice president of marketing for Treepodia. "Our new Video Distributor service is a fast way to generate high impact by ensuring that product videos are viewed by as many customers as possible, while also improving search rankings for our customers and their products - all of which adds up to higher conversion rates and increases in revenues."
Automatic Video Uploads Increase Visibility, Improve Search Rankings
Achieving high ranking search results in Google and other search engines can be an expensive and complicated endeavor -- but posting product videos on various video-sharing sites can add tremendous value to this effort . According to Forrester Research (http://blogs.forrester.com/marketing/2009/01/the-easiest-way.html), pages with video are 50 times more likely to appear on the first page of a Google search result than plain HTML pages. By mass uploading product videos to video sharing sites with a link to the specific product pages, Treepodia's new Video Distributor service offers a straightforward solution that enables companies to increase their web presence and achieve higher natural search rankings.
For example, with Video Distributor, Treepodia client Electronic Shopping appears as the top result in YouTube for the term 'morphy richards smoothie': http://www.youtube.com/results?search_query=morphy+richards+smoothie&search_type=&aq=f. Another example is a search for 'white gold solitaire earrings,' which shows Treepodia customer Ice.com as the first result on YouTube: http://www.youtube.com/results?search_query=White+Gold+Solitaire+Earrings+&search_type=&aq=f. Another Treepodia client reaping the benefits of Video Distributor is Well Pack -- the company's Robot Chef appliance is the first hit in a YouTube.com search of 'kenwood robot chef': http://www.youtube.com/results?search_query=kenwood+robot+chef&search_type=&aq=f.
"We're thrilled with the results we've seen from using Treepodia's Video Distributor service," said Shmuel Gniwisch, CEO of Ice.com and Diamond.com. "Our organic search rankings are much higher now that our product videos are available on the major video sharing sites, and we're experiencing an increase in traffic to our site in part due to customers linking directly to product pages from YouTube.com and other video sharing sites," said Gniwisch.
The Treepodia Smart Video Platform
Treepodia's Smart Video Platform eliminates the high initiation costs of video production by allowing customers to use their existing images and other types of marketing content to create engaging videos. Within 24 hours, customers can create an entire product video catalog which can be updated on a continual basis to reflect new prices, special offers and more.
Additionally, Treepodia's Smart Video Platform takes video to a new level with its built-in A/B testing mechanism, which tests the effectiveness of each video version and automatically promotes top-performers to ensure the highest conversion rate and ROI.
Treepodia's platform also allows for the creation of Smart Banners, which showcase top-performing product videos in banner format. Smart Banners can appear on any web page including a home page, affiliate sites and social networks to increase their viewership. Smart Banner videos are shown in rotating fashion each time a visitor comes to the site, and the system tracks click-throughs and eventually determines the top performers.
The Treepodia Smart Video Platform works on a cost per view model, without production fees or contract terms, and provides a guaranteed four-fold ROI.
About Treepodia, Ltd.
Founded in 2007 by knowledgeable and experienced e-commerce professionals, Treepodia is the leading video platform provider for online retailers. The Treepodia Smart Video Platform enables online merchants to cover their entire product catalog with effective and engaging video content in just 24 hours. Treepodia offers a unique cost per view model with ROI guaranteed. The company has more than 50 clients worldwide, including Ice.com, OnlineGolf, Forzieri, EyeBuyDirect, Emjoi, BedBathStore and more.
###