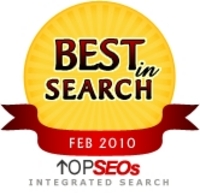 The EchoPoint system integrates the right keywords into search and ALL messaging, from marketing and social media to proposals and customer relations.
Potomac Falls, VA (PRWEB) February 24, 2010
Known for using its proprietary EchoPoint Messaging System™ to define clients' best keywords, competitive advantages, differentiators, value propositions, online and offline messages, visual approach and talking points, EchoPoint Marketing Partners has just been named as one of the foremost agencies for integrated search services by topseos.com.
topseos is an independent ranking service that analyzes over 4,000 firms involved in the field of search and online visibility. Noted by SmartMoney for its "rigorous evaluation process," topseos helps companies connect with today's best Internet marketing agencies and tools, including the EchoPoint Messaging System™ that has improved the visibility of clients ranging from solo consultants and franchises to government contractors and Fortune 500 companies.
According to EchoPoint's Nick Lutkins, this metrics-driven system defines an organization's best keywords then deploys those words into a larger messaging context. The value of this holistic approach, Lutkins notes, is that "you can have all the right PPC/SEO words, but if your website's visual and verbal messaging is off target, search traffic won't convert. Our EchoPoint system gets all your messaging together so you see better bottom-line business results."
Judy Kirkland, EchoPoint Marketing Partners' co-founder, adds that "integration is the key. Our system integrates the right keywords and messages into everything a business does: not just search and website development, but also social media, sales, customer service and even internal communications." EchoPoint Marketing Partners clients attest to the fact that this unique approach to integrated messaging makes it far easier to stay visible -- and successful.
About EchoPoint Marketing Partners:
Founded by Nick Lutkins and Judy Kirkland, EchoPoint Marketing Partners specializes in messaging to help clients define their absolute best differentiators, value propositions and branding. The unique EchoPoint Messaging System™ takes the guesswork out of how to engage audiences, beat competitors and move businesses forward … faster. Plus, the process helps clients make sure all their messages — visual, verbal, actions — are pulling in the right direction before they invest in a Website, buy search words, launch a campaign or send out salespeople.
For additional information about EchoPoint Marketing Partners or the EchoPoint Messaging System™, please call 571-434-4080 or visit EchoPointMarketing.com.
###