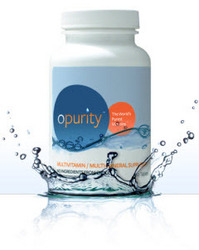 Given the direction of the multivitamin industry, however, many consumers have tied their peace of mind, sense of control and their very health to the quality of vitamin ingredients made in China.
Reston, VA (PRWEB) February 22, 2010
Prosynthesis Laboratories, Inc. has announced the launch of opurity™, a premium multivitamin multi-mineral supplement. Within a highly competitive market, the Sterling, VA based nutrition company has aroused interest and invited controversy because of what it's not – specifically, it is not "made in China". Defying industry trends, opurity was uniquely designed and developed to exclude vitamin ingredients from China. There is, however, a bigger question for US consumers implied in this approach. Should we trust our health to China?
For most Americans, multivitamins represent an investment in their health and well-being. Millions of adults take some form of multivitamin to get the nutrients they need. With a single tablet, consumers can meet the daily recommendations for Vitamin C, Vitamin D, Folic Acid, Iron and other essentials. It's easy and fits our busy lifestyles. The daily ritual of taking multivitamins also helps re-affirm a commitment to good health – and offers peace of mind as we start our day. In many ways, multivitamins offer the most visible example of consumers taking control over their own health. Given the direction of the multivitamin industry, however, many consumers have tied their peace of mind, sense of control and their very health to the quality of vitamin ingredients made in China.
Over the past decade, China has become the world's largest maker of vitamin ingredients. Yet, most consumers are completely unaware that multivitamin ingredients they ingest are likely from China. U.S. laws don't require multivitamin companies to inform consumers of where ingredients are coming from, so they don't. Some multivitamin labels say "Made in USA" or "Made in Germany" when, in fact, they use vitamin ingredients from China. Considering the quality issues that have plagued China's food and drug industry – including the melamine contamination and the blood thinner scandals – it's clear that multivitamin sellers have little incentive to disclose ingredient origins on their own. A willingness to disclose where its ingredients are made, however, sets opurity apart.
"If you put it in your body, you deserve to know where it's from," says Jerome Krachenfels, Co-Founder of Prosynthesis Laboratories. "We've developed opurity multivitamins for those who are reluctant to trust their health to China – or to other low quality, low cost producers of vitamin ingredients. Our focus is squarely on the most essential, highest quality ingredients from places our customers can trust. We've grown our business by building trust with frontline healthcare providers and their patients. Our core customers demand the highest quality nutrients and want to avoid ingesting products from China. "
Sourcing vitamin ingredients from countries other than China wasn't easy. China dominates the global market for vitamin ingredients such as Vitamin C, A, B12, and E. For this reason, it took opurity much longer to build a complete set of trustworthy sources. "It's taken two years to get to where we can actually make a China Free guarantee. Some vendors asked, 'Why are you asking about China; no other companies are?' Knowing the continuing quality issues with all kinds of foods and drugs from China, we knew our customers wouldn't accept a multivitamin that wasn't China free. We created a multivitamin people can trust. "
Some might question how the highly publicized contamination of Chinese pet food, baby formula and children's toys relates to the quality of a multivitamin. Is "China free" a guarantee that consumers want and need – or is the message xenophobic and alarmist? Why shouldn't we trust multivitamins just because the ingredients are produced in China? Is this fear and hype or a genuine concern for consumers? How much risk is there? What are the facts?
In 2007, research by ConsumerLab.com showed only 10 of the 21 – less than half – of the multivitamins tested met the quality claims on the label. As revealed in US News and World Report, "one of the multivitamins was contaminated with lead". That same year, NPR reported that "lead-contaminated multivitamins showed up on the shelves of U.S. retailers" and "vitamin A from China was contaminated with dangerous bacteria". According to the Washington Post, Rep. Henry Waxman (D-Calif.), chairman of the House Government Reform Committee, "has deplored dangerous levels of lead in vitamin products originating in China".
Combined with other quality scandals within China's food and drug industry, opurity contends that consumer concerns over vitamin ingredients from China are very well founded. "You have heard of Russian Roulette where you are dared to risk a bullet for no real reward? Chinese vitamins are almost like 'Chinese Roulette': you risk your health to save pennies a day. The proof is in the contaminated pudding", says Krachenfels. "We are offering consumers facts about what they put into their body and an alternative to multivitamins made in China. "
The uneasiness about products made in China extends to the Chinese themselves. China's own Ministry of Commerce reported that an overwhelming majority (more than 85%) of their own people put food safety among their major concerns. Although it's taken some steps to address the safety of food and drugs, much work remains to meet Western ethics and quality standards. Chinese companies, according to the New York Times, "continue to take advantage of the country's chronically weak enforcement of regulations, choosing to blend fake ingredients into products; to sign contracts agreeing to sell one thing only to later switch the raw materials for something cheaper; and to doctor, adulterate or even color foods to make them look fresher or more appetizing". The Wall Street Journal pointed to a disturbing mindset in China that makes this possible. "In China, operators display an incredible willingness to place public safety at risk in exchange for only the smallest gains in profit." Paul Midler, the author of "Poorly Made in China", calls this "quality fade…the deliberate and secretive habit of widening profit margins (by cheapening the) quality of materials."
Unfortunately, American consumers can't rely on the FDA to protect them from contaminated ingredients from China. William Hubbard, former senior associate commissioner at the FDA explained to NPR in 2007 that "with 13 million food imports last year and only several hundred inspectors, the FDA was able to look at only about 1 percent of shipments at U.S. ports. And it rarely looks at food ingredients at all – such as the Chinese imports of wheat gluten (a protein in wheat) associated with the melamine contamination." What's more, US law treats supplements like food and allows them to go straight to market. No FDA approval is required and it can only intervene after consumers get sick or a safety issues comes to light.
"We offer consumers another choice and a higher standard for quality", says Krachenfels. "We're not asking consumers to take a political stand based on China's human rights abuses or labor practices. Our passion revolves around the quality of our products and the health of our customers. With opurity, we're inviting American consumers to take an informed stand to protect their health. Before you put it in your body, know where it's from."
For more information on opurity multivitamin multi-mineral supplement visit http://www.opurity.com or call 1-800-517-5111.
###