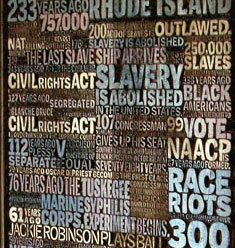 "Simply amazing. There is something about touching the words, feeling their depth, that brings this history home."
Bristol, PA (PRWEB) February 24, 2010
The election of President Barack Obama has awakened a sense of achievement, purpose and history in America. Sometimes, it is the presentation that brings history into perspective. In ways that are not possible with other mediums, the 389years.com wood carving traces events in African-American history starting with the arrival of the first slave ship all the way through the election of Barack Obama as President.
Beyond printed pages in a history book, the words are carved in a museum quality piece of art that chronicles the triumphs and tragedy of the African-American experience.
In celebration of Black History month, 389years.com is offering this carving for sale. Once available only to museums and exhibitions, this carving is suitable and ready for display at home.
More textural than a paper poster and with more character than stone, the wood imparts a warmth, depth and nobility like no other medium. Viewers have commented, "Before I saw this piece, I knew all about Emmitt Till, but the feel of the wood under my fingers made it more real. When I touched his name I started to cry."
From people like Thurgood Marshall, Malcolm X, Rosa Parks, to events like the Civil Rights Acts and places such as Tulsa and Tuskegee, the events unfold to create the texture of African American history.
"Simply amazing. There is something about touching the words, feeling their depth, that brings this history home."
The events are counted backward in years from the election of Barack Obama as President of the United States. "389 years ago, the first slave ship arrives in the American colonies"... "45 years ago Dr Martin Luther King Jr has a dream."
It is like walking through time feeling the sacrifices of the individual and the perseverance of the many.
Those who lived through the events find themselves thinking, "that was 50 years ago?, it seems like yesterday." And younger people find that what once seemed like ancient history was not so long ago.
Each piece of artwork is individually carved and numbered. The carving measures 4' tall by 19.5" wide. It is framed with an ebony black frame. Every event is colored in alternating wood finishes: Cherry, Mahogany, and White Oak. The carving is over 1" thick. Every piece is handcrafted in the USA. Because each woodcarving is handworked, there is a limited number available.
For more information and to purchase, please visit http://www.389years.com
###