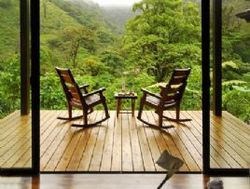 "Costa Rica is a very appealing destination for the North American traveler," states George Schwab, Managing Partner of Elite Luxury Travel. "It is the number one tourism destination in Latin America, so it was a perfect fit for Elite."
Garden City, NY (PRWEB) February 24, 2010
Elite Luxury Travel now offers two exceptional choices for eco-travelers and adventurers. The Hotel Punta Islita and El Silencio Lodge & Spa resorts are equally ideal for couples who seek a romantic getaway or an unforgettable setting for an eco-wedding.
Hotel Punta Islita, located along Costa Rica's Pacific coast in the sun-drenched Guanacaste region, is one of the original eco-resorts, and features 54 stylish accommodations, in thatched-roof bungalows and villas, tiered into a hillside overlooking a pristine beach.
Moving inland to the cloud forests of the Central Volcanic Valley, the intimate new El Silencio Lodge & Spa offers just 16 cottage suites with private decks open to spectacular mountain views.
Both resorts are distinguished by sophisticated, locally sourced organic cuisine inspired by Costa Rican flavors, nature-inspired spas with a focus on local healing, and an unending array of activities, from zip-lining above the forest canopy to river kayaking, horseback riding, hiking and cultural tours led by expert guides.
Punta Islita and El Silencio were developed with an unyielding commitment to environmental stewardship, creating an exceptional synergy between the hotels, their surrounding ecosystems, and the local culture. Guests can learn about the hotels' responsible tourism initiatives through activities such as complimentary educational tours at Punta Islita and tree-planting ceremonies at El Silencio.
Elite Luxury Travel was founded in 1992 by George Schwab in order to provide sales and marketing consulting services to the hospitality industry. Since then Elite has become synonymous with luxury travel in Europe, promoting luxury travel packages at some of the world's finest spa, golf and ski resorts. Elite has now begun offering its services to hotels outsides of Europe and the U.S., starting with Costa Rica.
Elite Luxury Travel works with travel agents and guests to arrange special courtesies and all details needed to ensure a flawless travel experience. Visit us to learn more about the new Costa Rica resorts and to explore all of our international luxury vacation possibilities at http://www.eliteluxurytravel.com or call 1-877-437-1060.
###