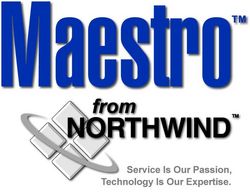 Markham, ON (PRWEB) February 23, 2010
NORTHWIND-Maestro PMS, provider of Maestro™ Enterprise Property Management hotel software and reservation software solutions for the hospitality industry, announced today that its 2010 Maestro Users Conference titled Beyond PMS will be held September 20 - 23 at the beautiful Water's Edge Resort and Spa in Westbrook, Connecticut.
The 2010 Users Conference is a 'must attend' invitation-only event that will bring together management-level Maestro users from leading resorts and hotels with NORTHWIND-Maestro experts to exchange ideas, build alliances and explore business strategies to maximize revenue, productivity and guest service.
Warren Dehan, president of NORTHWIND-Maestro PMS, explains, "Our 2010 Users' Conference will focus on providing our clients with effective management processes that increase profitability. We will take attendees beyond Maestro training and technology and present business-oriented strategy sessions and labs that will include how to leverage the Internet to maximize online revenue; successful ways to exceed guest service expectations; and implementing proven practices to increase staff productivity. This year's Conference will be extremely valuable for Maestro users responsible for property performance, management and operations." The 2010 Conference will also offer valuable training sessions structured to deliver the maximum benefit to hospitality professionals who want to apply technology more effectively in their businesses and exchange ideas with peers.
Who Should Attend
The 2010 Conference will be valuable to hospitality executives and managers from all areas of hotel company and property operations, including:

Controllers and hospitality finance professionals
Directors and vice presidents of sales, catering managers
General managers and front office managers
Reservations managers and revenue managers
Vice presidents and directors of IT
Corporate operations directors and vice presidents.
Business Strategies - Beyond PMS
In addition Interactive Forums, Hands-on Labs and Maestro Best Practices - a few global strategy sessions will include:

Thriving in The Age of The Internet: How direct Web bookings, GDS, and social media will change the face of the hospitality industry
Online Strategies to Strengthen Customer Loyalty: How to increase your website's 'look-to-book' ratio and develop winning strategies to personalize your guest experience and cater to the NOW Generation
What Today's Traveler Wants and How to Exceed Their Expectations: How to make hotel guests feel like they're getting more for their money
Bottom Line Boost: The Power of Integration to Increase Productivity, Empower Staff, Reduce Costs, and Centralize Operations.
Conference Fee Credited Toward Training
Attendees who register for an All-Access pass will receive three days of valuable operations strategy and industry connections, and the registration fee of $1,497 will be credited towards Maestro training services or new module purchase from now until July 2011. This is NORTHWIND's way to make its 2010 Conference fit any users budget in these challenging times.
Early Bird Specials and Event Schedule
The first ten registrants will receive upgraded ocean view rooms; and the first 20 registrants will be entered in a drawing to win three nights in the Resort's lavish Royal Suite. The Conference schedule of events includes:
Monday September 20th - Arrival Day, Private Sessions, Welcome Reception and exciting 70's Theme-Party and Karaoke
September 21st - 23rd - Three full conference days featuring executive presentations, hands-on labs, interactive sessions, and the annual Evening Gala dinner on the terrace of Water's Edge Resort featuring a New England clam bake overlooking the Atlantic Ocean.
September 24th - Optional day for individual private sessions,
There are still many more exciting details in the works to be announced soon - but with limited availability - this event is sure to sell-out early and become one of the most talked about Maestro Users' Conferences ever!
For more information on Maestro's 2010 Users' Conference, please visit our webpage at:
maestropms.com/images/MUC2010.html
For a live demo of the Maestro 'Web Connection' Suite featuring the ResWave Booking Engine, please contact the NORTHWIND-Maestro team at 1.888.667.8488 or email info(at)maestropms(dot)com.
Follow NORTHWIND-Maestro on twitter.
Maestro Property Management Solution
Enhance guest service, improve efficiency and maximize online and offline revenue with Maestro PMS, the industry's most robust and flexible solution empowering leading full-service hotels, luxury resorts, multi-property groups, conference centers, condominiums and timeshare properties. Solutions include Front Office (PMS), Accounts Receivable, Analytics and Business Intelligence, Sales and Catering, Multi-Property Management, Condo & Timeshare Owner Management with Web Functionality, Spa and Activities, Web Booking Engine, Real-Time Yield Management, Dynamic Packaging Golf CRM, Guest Experience Measurement, CRO, GDS Two-Way XML Connectivity or Integration, Membership, Work Orders, Fine Dining and Retail POS, Online Table Reservations with Web Booking, Concierge and Guest Experience Measurement. The Maestro PMS is database independent (ODBC Compliant) and may be deployed via Windows, UNIX, Linux, Terminal Services, hosted and Web platforms.
About NORTHWIND - Maestro PMS
NORTHWIND is recognized in the hospitality industry for its "standard setting" Diamond Plus Service and robust integrated Maestro technology. With over 30 years of experience dedicated to developing technology solutions for the hospitality industry, NORTHWIND is a partner who understands that you need a scalable and flexible PMS that works the way you do. Maestro applications are engineered for operators who need to manage their enterprise in a real-time environment for the utmost operational efficiency, productivity, control and profitability.
Contact:
NORTHWIND - Maestro PMS, North America
Ivana Johnston - Sales & Marketing
8300 Woodbine Avenue, 5th floor
Markham, ON L3R 9Y7
Canada
Phone: 905.940.1923
Toll Free: 1-888-667-8488
Email: info(at)maestropms(dot)com
http://www.maestropms.com/?Campaign=PRWebUsersGroupFeb232010
Media Contact
Julie Keyser-Squires, APR
Softscribe Inc.
180 River Springs Drive NW
Atlanta, GA 30328
Twitter: @Juliesquires
Phone: (404)256-5512
Email: Julie(at)softscribeinc(dot)com
softscribeinc(dot)com
marketingsnacks(dot)com
###