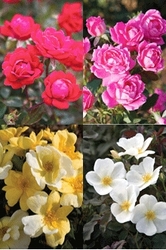 The Knockout Rose is going to revolutionize the gardening industry.
Charlotte, NC (PRWEB) February 24, 2010
Brighter Blooms Nursery is now selling the easiest growing, lowest maintenance rose yet. The iRose is part of the knock out rose family, providing customers with vibrant colors and long lasting blooms. The Knockout rose is a breakthrough in horticulture engineering. Not only is it a prolific bloomer, but resists pests and disease. Old fashioned roses are very prone to rust, black spot and mildew damage.
Why choose a Knockout Rose? It's a simple rosebush that blooms like mad without any of the pest or disease issues. Here is an ultra sleek, blooming innovation born from the most brilliant and revolutionary horticultural technology around… Knockout Rose engineering actually lets Mother Nature do her thing. Knockout rose bushes are the first rosebush that anyone, almost anywhere, can succeed in growing without a bunch of technical hassles.
Justin French, product developer at Brighter Blooms Nursery, says, "As long as there is full sun for best solar activity functions, Knockout Roses will perform without fail right away in most soils and climates." Knockout Roses come in a wide variety of colors; red, pink, yellow and white. Organize the Knockout Rose in straight or curving lines for nonstop bloom on knockout rose borders from spring until frost. Plug iRose into a cool patio container or add prominent spots of color to foundation plantings or perennial gardens.
Brighter Blooms Nursery will be carrying the entire line of Knockout Roses throughout the spring. This includes the newly developed Knockout rose trees and Double Knockout Roses. More information can be found at Brighter Blooms Nursery
About Brighter Blooms Nursery:
Brighter Blooms Nursery was established in 2007 and strives to provide the best quality live plant material at the largest sizes and lowest prices.
# # #