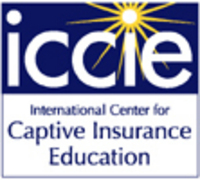 "ICCIE and EIC represent the best and brightest of the captive insurance industry," noted Dennis Harwick, president of CICA.
Minneapolis, MN (PRWEB) February 23, 2010
The Captive Insurance Companies Association (CICA) will honor the 2010 recipients of the CICA Distinguished Service Award and the CICA Outstanding Captive Award at the Opening Session of the CICA 2010 International Conference on Monday, March 8, 2010 in Orlando, Florida.
The International Center for Captive Insurance Education (ICCIE) has been named the recipient of the CICA 2010 Distinguished Service Award--the highest award possible in the captive insurance industry. ICCIE was incorporated in 2003, and began operating in 2004 when it received its 501(c)(3) non-profit determination from the IRS. ICCIE's mission is "to assist in building the capacity of the captive insurance industry through comprehensive captive insurance education of industry professionals." It offers both an "Associate in Captive Insurance" (ACI) degree designation and other modular professional development courses. Since its founding over five years ago, ICCIE has granted 122 ACI degrees and educated hundreds of professionals in the captive insurance industry.
"One of the criteria for the CICA Distinguished Service Award is contributing to the broader understanding of captives and assisting in the growth and success of the captive insurance industry," said CICA President Dennis Harwick. "No organization has done more for education in the captive industry and created a core group of qualified professionals than ICCIE." ICCIE is the first organization to receive the CICA Distinguished Service Award, which has been awarded in previous years to prominent individuals such as Hugh Rosenbaum, Len Crouse, Tom Jones and Kate Westover.
Exchange Indemnity Company (EIC), a captive insurance company owned by Verizon Communications Inc. has been selected as the CICA 2010 Outstanding Captive Award winner. This award recognizes a successful captive insurance company or risk retention group that has shown creative uses for a captive, prevailed in difficult times, and gained a positive reputation among rating agencies, regulators, and colleagues in the captive industry.
EIC was incorporated in Vermont in 1995 by NYNEX, a predecessor to Verizon. In 1997 Sheila Small, Assistant Treasurer–Risk Management of Verizon, was appointed president of EIC and under her leadership the captive has grown from its small beginnings to a captive insurance company that now holds assets in excess of a billion dollars, underwrites over 25 programs, and handles 16,000 claims annually. In 2003, Ms. Small was named "Risk Manager of the Year" by Business Insurance and RIMS. The programs underwritten by EIC range from workers compensation and general liability programs to crime and fidelity, errors and omissions, property, TRIA, and employment practices programs. Over 75% of Verizon's insurance costs are underwritten by EIC. In addition, EIC has a substantial portfolio of third party business associated with Verizon's employees and customers. In 2000 Verizon launched an innovative multi-vendor auto and home affinity program that was reinsured in the captive and in 2001 Verizon Wireless began to offer insurance products to their subscribers that were reinsured in EIC.
"ICCIE and EIC represent the best and brightest of the captive insurance industry," noted Dennis Harwick, president of CICA.
CICA's 2010 conference, March 7-9, 2010 in Orlando, FL, features two full days of intensive education sessions and a comprehensive tradeshow where captive owners and risk managers can learn about and evaluate business solutions and ideas with service providers and domiciles. Peter Leyden, technology and future trends expert, will deliver the opening keynote address on "Our Age of Transformation: What's Next in Our High-Tech, Global 21st Century World."
CICA is the only domicile-neutral captive insurance association. Founded in 1972 by risk managers for their collective benefit, CICA works to provide the foremost education, networking and leadership for captive and risk retention group professionals. Through CICA's personal network focused on the common issues that concern captives and risk retention groups, members are constantly exploring new ways to broaden the use of their captives to increase flexibility in program design, stabilize long-term program costs and increase access to both domestic (U.S.) and offshore reinsurance capacity.
Get program details and register for the CICA 2010 International Conference.
###