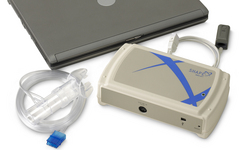 Shortness of breath is a fear of most patients and it's what brings them to see me initially
Saint Paul, MN (PRWEB) February 23, 2010
"Shortness of breath is a fear of most patients and it's what brings them to see me initially," said Dr. Myron Licht, a double board certified, interventionally trained cardiologist practicing in Arizona since 1993. Physicians know that shortness of breath, or dypsnea, is complex and can arise from a number of anatomical and physiological causes.
According to Dr. Licht, defining the specific cause is now more simple because of a new medical device available at the Apex Heart Care clinic. That device is called the Shape-HF and it measures a patient's physiology in an easy, six-minute test that helps physicians identify the predominant source of shortness of breath, primarily the heart or lungs.
"In cardiology, doctors have relied on chest x-rays, stress tests, CAT scans and MRIs," said Dr. Licht. "Using the Shape-HF is the next logical step, or paradigm shift, in better understanding heart failure and cardiopulmonary disease because it provides objective information--primal physiology markers--about a patient's condition."
In addition to defining a patient's physiological limitation, the Shape-HF also measures responses to pharmacotherapy and cardiac resynchronization therapy and unmasks exercise-induced changes in pulmonary vasculature. Patients can take the test with minimal exertion on a low-grade, low-intensity treadmill or step stool.
Dr. Licht uses his Shape-HF to measure patients with a variety of heart and lung ailments including heart failure, heart shunts, chronic obstructive pulmonary disease, pulmonary hypertension, and even a double lung transplant.
He recently saw a patient who was concerned about shortness of breath and sleep apnea. The patient had lost a significant amount of weight a year ago and currently weighs over 300 pounds. "Some might conclude that this patient needs to lose more weight before running any tests," said Dr. Licht. "When he concluded the Shape-HF test, we learned he had underlying problems related to cardiopulmonary hypertension, a serious health concern and something that may have been overlooked."
The Shape-HF results correlate to the New York Heart Association Classification values and because the test is easy to conduct, for both the patient and the physician, tests can be conducted regularly to track a patient's progress and assess patient risk for a cardiac event or hospitalization. "This device let's me see what cardiopulmonary shape my patients are in so I can accurately treat them and keep them from being readmitted to the hospital," said Dr. Licht. "This Shape-HF test is the right technology at the right time."
About Apex Heart Care
After 14 years of practicing non-invasive, invasive, and interventional cardiology, Dr. Licht now devotes 100% of his practice to perfecting office-based cardiology. He received his Osteopathic Medical Degree from the New York School of Osteopathic Medicine in 1986 and completed his internal medicine residency and cardiac fellowship in 1993. Dr. Licht writes a blog called It's About Your Heart and is well-connected to the interventional, electrophysiologic, and hospital community in Arizona, with whom he collaborates when needed.
About Shape Medical Systems
The Shape-HF is a product of Shape Medical Systems Inc., a privately held, Minnesota-based medical device company whose core technology lies in the development and commercialization of products for assessing heart/lung interaction and ventilation in chronic heart failure and other cardiopulmonary disease. Shape's clear mission is to develop products that increase the quality of patients' lives by helping doctors define shortness of breath, assess patient functional capacity, optimize response to therapy, and monitor patient progress. Shape testing provides evidence based outcomes. Shape Medical Systems was founded in 2004 and received FDA market clearance for the Shape-HF™ Cardiopulmonary Testing System in April 2009. The Shape-HF™ System, testing protocols and applications are protected by patent 7,225,022 and other U.S. and foreign patents issued and pending.
# # #