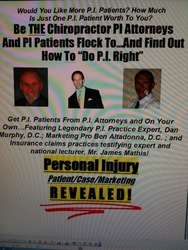 Unfortunately there are a lot of attorneys and doctors using questionable tactics to attract personal injury patients. With the help of Dan Murphy, D.C. and James Mathis insurance industry expert, we've come up with a professional way to educate the general public and attract new patients that have been involved in a motor vehicle accident
Davenport, Iowa (PRWEB) February 24, 2010
For years chiropractors have struggled attracting personal injury patients and according to Ben Altadonna, chiropractic's leader in practice growth, the only way to attract P.I. patients is to do things right.
"Unfortunately there are a lot of attorneys and doctors using questionable tactics to attract personal injury patients. With the help of Dan Murphy, D.C. and James Mathis insurance industry expert, we've come up with a professional way to educate the general public and attract new patients that have been involved in a motor vehicle accident," says Altadonna.
According to Altadonna, most doctors of chiropractic are terrible practice promoters and with the help of the biggest names in chiropractic, his company Altadonna Communications, Inc. provides affordable and virtually "done for you" new patient attraction systems.
"I'm no genius but I know how to do one thing right and that's provide doctors with solid practice building strategies that any D.C. can afford...and the upcoming one day P.I. events will show chiropractors how to attract P.I. patients and manage their cases right and all attendees will receive at no charge, one year of P.I. marketing to 3 P.I. attorneys of their choosing, one year of monthly P.I. care support from Dan Murphy, one year of monthly Insurance/Attorney advice from James Mathis, and a P.I. specific multi-step lead generation marketing system that targets your inactive patients"
This first of its kind P.I. exclusive event will be held June 4th in Atlanta and July 23rd in San Francisco.
For more information, go to http://www.DoPiRight.com
###