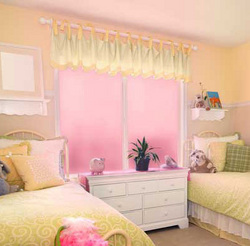 "The Deco Tint collection is an easy and stylish way to protect a child from prying eyes.
Cocoa, FL (PRWEB) February 23, 2010
A new line of adhesive-free privacy window tints is a colorful and fun way to add privacy to a child's bedroom window.
For bedroom windows facing a street, a neighbor's window, or the common area of an apartment complex, condominium or dorm, adding an adhesive-free privacy film from the Deco Tint collection is an easy and stylish way to protect a child from prying eyes.
Curtains and blinds are all too often left open by children at night when the lights are on. Using these decorative films ensures your child's privacy while illuminating the room with beautiful stained glass color during the day.
The Deco Tint line is available in 10 child and parent pleasing colors that look like stained glass. Each color is available in a Privacy and See-Thru version (used where privacy is not a concern, but the desire for a unique, colorful window is). The decision to cover just part or all of a window with privacy film depends on the proximity of surrounding buildings and homes, pedestrian and vehicle traffic nearby, window size, etc.
Made by Wallpaper For Windows of Cocoa, Fla., Deco Tint films are easy to apply, easy to clean, will look great for years, and can be removed in seconds when it is time to redecorate. Deco Tint's filter UV rays, save energy (glass is cooler in summer/warmer in winter), and are removable and reusable.
Take a security-conscious look out of your child's bedroom window, because what you can see, is what or who can look into your child's room. If you feel more privacy is prudent or would like to decorate the glass with see-through color, Deco Tint's are a stylish solution that provides great value for your decorating dollar. For more information visit: http://www.wallpaperforwindows.com or call 800-320-8439.
###