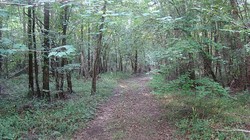 The Alabama property is perfect for hunting and timber purposes
Gadsden, AL (Vocus) February 23, 2010
Approximately 553± acres of timberland in Crenshaw County, Ala., will be auctioned at a real estate auction on March 6 at the Oakwood Lodge in Andalusia, Ala., through J. P. King Auction Company, the nation's leading real estate auction marketing firm. Approximately 367± acres of raw land in Holmes County, Fla., will be offered as well.
The Florida property, located just off County Road 179 and 10 miles from I-10, will be divided into seven tracts ranging from 34± to 103± acres, while the Alabama property is divided into 10 tracts along the Conecuh River. Located near the town of Brantley, the Alabama property has 2.25± miles of river frontage.
"The Alabama property is perfect for hunting and timber purposes," said Craig King, president and CEO of J. P. King Auction Co. "It is a prime recreational-timberland property that is not only stunning, but is also located along one of the few natural rivers remaining in the South."
The 10 tracts range from 38± to 80± acres and include internal roads that provide easy accessibility throughout the property. Located just 40 miles south of Montgomery and 90 minutes from South Walton Beach, Fla., the property is valuable for its multi-purpose use and its convenience.
The timber includes 120± acres of towering 100-year-old Oaks, Magnolias and Cypress trees and 17-year-old planted pine trees. It contains everything wildlife needs, including food, water and shelter, making it ideal for hunting and also includes a convenient location.
"It is a unique tract, and, since the river runs crooked, there's really about five or six miles of river frontage," said Ted Vignola, the representative for Union Timber and Investment, who owns the property. "It's just filled with all kinds of wildlife, especially deer, turkey and ducks, and the top tract is an excellent timber investment. It really is an outstanding property."
The Florida property's northernmost tract, which is 186± acres, could also serve as a timber investment.
"The property in Florida provides a fantastic opportunity to purchase land in Holmes County," said King. "If offers great potential for a small farm of residential development."
The auction will take place on March 6 at the Oakwoods Lodge, 13759 Brooklyn Road, Andalusia, Ala, at 11 a.m.
"We chose J. P. King to conduct this sale based on their proven tract record, and their honest reputation," Vignola said. "They're one of the best firms in the country."
For more information about the upcoming auction, including maps and property information, individuals may contact J. P. King Auction Co. at 800.558.5464 or visit the company's Web site at http://www.jpking.com.
J. P. King, based in Gadsden, Ala., is the nation's leading real estate auction firm, specializing in high-value properties and portfolios such as luxury homes, developments, condominiums, land and ranches. J. P. King has marked upscale properties in 49 states and six countries with recent sales in Texas, Florida, Tennessee, Mississippi, Wisconsin, and South Carolina.
###