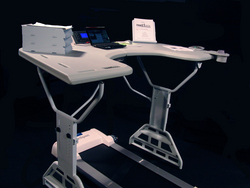 Public health jurisdictions should integrate …. healthy eating, active living, and obesity prevention across their respective communities.
Phoenix, AZ (Vocus) February 24, 2010
Nearly one in three adults (73 million Americans) suffer from hypertension (high blood pressure) according to the Institute of Medicine in a report released today; with one in six adult deaths directly attributable to the disease, making it the second leading cause of death in America today. The report recommended large scale societal interventions include programs aimed at lowering sodium intake, improving diets and introducing more physical activity into the work place such as that provided by the TrekDesk Treadmill Desk.
The economic costs of hypertension to the US health care system are staggering, toppling $73.4 billion in 2009 alone. The Institute's report spotlighted specific risk factors which must be addressed immediately: "Public health jurisdictions should integrate …. healthy eating, active living, and obesity prevention across their respective communities."
While health practitioners struggle to educate patients to lower sodium intake and increase potassium into their diets through fruits and vegetables one of their biggest challenges is implementing a program of physical fitness into an ever increasing sedentary lifestyle.
"The impact of exercise, though only a cornerstone of the solution needs to be championed at every level, starting with our schools and expanding into our workplace. This is where Americans spend a majority of their time and any attempt to overhaul lifestyles that does not incorporate changes to this environment is doomed to fail," states Steve Bordley, founder of TrekDesk, a treadmill desk manufacturer.
Studies previously published point towards the effectiveness of daily walking in managing blood pressure levels. The Journal of Hypertension reported that a 40 minute walk assists in lowering blood pressure levels for a period of up to seven hours following exercise.
Even short amounts of walking activity have been shown to have health benefits. The challenge is finding the time to fit in the exercise into current lifestyles. TrekDesk allows employees to walk at slow speeds throughout the entire day at their desk (without sweating) and offers a unique solution to sedentary limitations imposed in the work place.
Individuals, especially seniors, with high blood pressure may fear that exercise may pose a risk however researchers at Johns Hopkins University found just the opposite. Study participants lost an average of 20% of abdominal fat more than the non-exercising control group, improving overall health with no additional health risks.
"It is not a coincidence that America's health concerns, including hypertension have increased in proportion to our lack of activity," related Bordley. "We have seen a marked increase in heart disease, diabetes, cancers and numerous other diseases rising in lock step with our increasing rates of obesity and decreasing rates of physical activity. The report released today further confirms the urgency of incorporating daily movement into the work place."
Good health is dependent upon a number of factors. Consistent daily movement seems an insurmountable challenge to many employees due to long commutes, extended work hours and sedentary occupations. TrekDesk changes that dynamic immediately with commensurate health benefits which far outweigh implementation costs.
Contact:
Steve Bordley
TrekDesk
Ph: 877-449-8588
FAX: 877-449-8588
info(at)trekdesk(dot)com
http://www.trekdesk.com
###