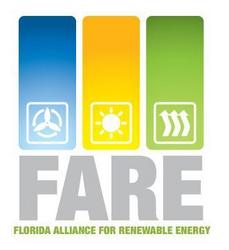 "Renewable energy can bring millions upon millions of investment dollars to Florida. Starting today we can harness the power of the sun, achieve energy security, save the family farm, and create tens of thousands of local jobs." -Mike Antheil, FARE
Orlando, FL (PRWEB) February 23, 2010
The Florida Alliance for Renewable Energy (FARE) announced today the keynote speaker for their Annual Renewable Energy Conference, Rhone Resch, President and CEO of the Solar Energy Industries Association (SEIA). This years conference "Florida's Next Decade of Renewable Energy" is set to be held March 26th through March 28th 2010 at the Gaylord Palms Hotel and Convention Center in Orlando, Florida. The conference will feature Friday and Saturday panel discussions and seminars and a Sunday golf tournament at the Celebration Golf Club.
Discussions will feature renewable energy experts and speakers from around the state, the country and the globe. Topics will cover technologies including biomass, solar, wind & more as well as policy and legislative topics, and renewable energy relevent to agricultural, retail, commercial, industrial and government applications. The conference will feature a special emhpasis on investments in the renewable energy industry and best practices of attracting private investment dollars, stimulating local economies and creating local jobs. Attendees will include coalition partners from the agricultural community, renewable energy advocates & activists, businesses from across the state and the region, industry value chain and service providers, real estate and investment professionals, legislators and local government officials.
FARE Executive Director Mike Antheil says "This is the very best opportunity that our industry has to come together and speak with one collective voice during the 2010 legislative session. We have an opportunity to demonstrate to our policy makers the overwhelming support of the renewable enegry industry, and how we have an opportunity to do something this year that has never been done before - to create a sustainable renewable energy marketplace in the State of Florida"
Keynote speaker Rhone Resch of SEIA will speak Saturday at lunch, followed by a live video address from Former CIA Director R. James Woolsey, leading in to the culmination of the conference featuring a discussion on renewable enegry policy for the State of Florida.
Other confirmed speakers include:

Jay Levenstein - Deputy Commissioner, Florida Department of Agriculture
Ed Regan - Gainesville Regional Utilties
Deb Doncaster - Canada Power Fund
Paul Gipe - Alliance for Renewable Energy
Andrew Walmsley - Florida Farm Bureau
Richard Pinsky - Governmental Policy Expert
John Joshi - Capital Fusion Partners
Jamie Schlinkman - Inergy
Scott Pogue - Eglin Air Force Base
Michael Goldstein - Florida Brownfields Association
"Florida's Next Decade of Renewable Energy" is being hosted March 26th through March 28th in Orlando, FL., by the Florida Alliance for Renewable Energy (FARE) and the Florida Farm Bureau (FFB)
Visit http://www.farenergy.org for more details and to register online.
###