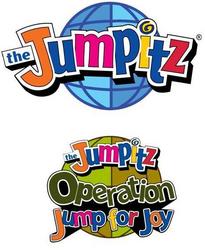 Kids can't seem to get enough Jumpitz programming.
San Diego, CA (PRWEB) February 23, 2010
The announcement follows the Jumpitz incredibly successful "Operation Jump for Joy" concert for hundreds of military families aboard the USS Midway in San Diego over the holidays. The concert later aired multiple times on the Pentagon Channel which can be viewed by nearly one million people around the world. Press Release.
Winner of multiple national parenting awards, the Jumpitz take preschoolers on a journey into a magical, whimsical land of song and dance where children learn to solve problems by doing and discover that by "jumping in" anything is possible! With a call to action of "You Can Do It, So Let's Jump to It," the Jumpitz short stories and songs empower children to engage, be curious and be creative. Sixty-one of The Jumpitz Shorts, "Shortcutz," and music videos premiered January 4th, 2010 throughout the AFN|family channel. Jumpitz Snapshot. Many of the same military families who can now view the Jumpitz through AFN's global footprint will be able to enjoy the troupe live and in person this summer.
Armed Forces Entertainment (AFE) has graciously agreed to help extend "Operation Jump for Joy" into an overseas tour by bringing Jumpitz Live! to American families stationed throughout Europe. This summer--from July 7th through July 20th--the Jumpitz will perform for families at bases in the U.K., Germany, Belgium and Italy.
"We are so excited to be able to bring the Jumpitz brand of energetic engagement right to the children of our armed forces this summer," said Phyllis Schwartz, President and CEO of The Jumpitz Corporation."Operation Jump for Joy is our way to show support and introduce fun and of course try to bring Joy to this important and committed group of families. Our relationship with both AFN and AFE is a wonderful and important extension to our brand and who we are."
"Armed Forces Entertainment is honored to host The Jumpitz this summer as they travel through Europe providing a family friendly entertainment experience for the whole family while focusing on the young dependents," said Edward F. Shock, Col, USAF, "These young children are asked to cope with the burden of going through six months to a year or even longer without one of their parents due to deployment; and they are often overlooked when it comes to scheduling entertainment opportunities. We are excited to see The Jumpitz, first hand, and witness the positive impact they will have on the children. We also look forward to sending them on other tours where we have military and their dependents living overseas."
"Kids can't seem to get enough Jumpitz programming," Said Larry Marotta, AFN's Chief of Television. "It's fun, invigorating and well-produced, but most of all, it opens doors to growth and achievement. We're proud that Jumpitz is part of the AFN|family and look forward to more in the future."
AFN|family is one of a group of television channels operated by the Department of Defense for the benefit of service members and their families deployed in 175 countries around the world and on U.S. Navy ships at sea. AFN|family targets children from preschool through high school age with the very best and most-popular American television programming designed for those age groups.
About The Jumpitz Corporation
The Jumpitz® is an award winning, live action preschool brand of edutainment that uses story, song and dance to empower kids to ENGAGE, BE CURIOUS and BE CREATIVE. Launched in late 2008, the Jumpitz began with its award-winning and critically acclaimed DVDs for preschool children. Recognized by Parent's Choice, NAPPA, Kids First and Dove, The Jumpitz continue to broaden their audience and industry appeal with the highly popular Jumpitz Live! concerts. For more information, http://www.jumpitz.com/.
About American Forces Network
The Department of Defense operates AFN American Forces Network®. AFN, a worldwide radio and television broadcast network, serves nearly one million American service men and women, Department of Defense civilians and their families overseas, stationed at bases in 175 countries as well as 140 U.S. Navy ships at sea. AFN broadcasts the most popular American radio and television programs from all the major networks. AFN is a service of the American Forces Radio and Television Service (AFRTS), a component of the Defense Media Activity (DMA). For more information about AFN's programming, please visit http://www.myafn.net.
About Armed Forces Entertainment
The official Department of Defense agency for providing entertainment to U.S. military personnel overseas, Armed Forces Entertainment (AFE) and its performers have the honor of supporting soldiers, airmen, marines and sailors by bringing them the very best in American entertainment. AFE hosts more than 1,200 shows around the world each year, reaching more than 500,000 personnel at 270 military installations. AFE is proud to present our troops the finest American entertainment and proud to represent the thousands of entertainers who have volunteered their time to give them a well-deserved break from the action. For more information about AFE, please visit http://www.armedforcesentertainment.com.
Contact: Heather Erickson, The Jumpitz Corporation, heather(at)thejumpitz(dot)com (619.540.1450)
Contact: Larry Sichter, AFN public affairs, larry.sichter(at)dma(dot)mil (951.413.2319)
Contact: Jennifer Milikien, Armed Forces Entertainment public affairs, Jennifer(at)rc-co(dot)com (210.829.1953)
###