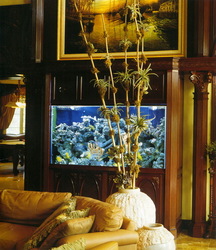 Our custom aquarium and pond designs are engaging and inspiring case studies to the forefront of design and aquariums. We're passionate in delivering the best and continue to excel in this arena
New York, NY (Vocus) February 23, 2010
Okeanos Aquascaping, a full service custom aquarium and pond design firm is creating works of art through their specialized luxury aquariums with beautiful design fusions that are lusted after by national and international media and owned by influential tastemakers around the world.
As a way to see marine ecosystems intertwined with custom design that radiates elegance and modernism, Okeanos highlights the architecture and interior décor of a client's living or working space in luxury homes and high-end commercial buildings and integrates aquariums and pond design flawlessly.
"Our custom aquarium and pond designs are engaging and inspiring case studies to the forefront of design and aquariums. We're passionate in delivering the best and continue to excel in this arena," states Martin Schapira of Okeanos Aquascaping.
The mastermind duo Martin Schapira and Noam Kamelhar personally consult with their clients from start to finish on each project working with their client's style and budget as well as providing them the unique opportunity to travel the world with their team on five star vacations to exotic islands and coral reefs. Clients are able to select their own environment, fish, coral, and livestock and Okeanos will create a customized replica in the client's location of choice. Okeanos also offers public and private educational seminars about exotic lifestock and pond and aquarium environments. Okeanos' one-of-a-kind design pieces are as fascinating to the eye as they are revolutionary whether you view them up close or afar. To view Okeanos' gallery, visit http://www.okeanosgroup.com.
ABOUT OKEANOS
Okeanos is a name that speaks of extraordinary aquarium and pond design elegance, unparalleled service and expertise, as well as high-end glamour appeal. Established in 2002 by duo Martin Schapira and Noam Kamelhar in New York City. Okeanos is the nation's leading exclusive custom aquarium and pond design firm. With more than 30 years of combined experience in luxury aquarium and pond design and filtration, Martin and Noam are pioneers in creating beautiful, exotic aquarium and pond showpieces in luxury homes, high-end commercial buildings, and travel destinations around the world. Okeanos has a premiere customer service department that is available 24/7 to the tri-state area and provides weekly to monthly aquarium and pond service. For more information on Okeanos, please visit http://www.okeanosgroup.com or call 212-244-9555.
For press information or to arrange an interview with an Okeanos representative, please contact PR Specialist Tamara York at tamara(at)tamarayorkpr(dot)com.
Tamara York/Tamara York PR
tamara(at)tamarayorkpr.com
917-328-4408
# # #