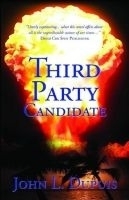 "I am an avid reader of political thrillers and this is one of the best I read in years, Kathy Schultz Barnes & Noble."
New York, NY (PRWEB) February 23, 2010
Alstair Press N.Y. announced today that it will allow Amazon Kindle users to download John L. Dupuis' novel Third Party Candidate for a limited time for only .99 cents. Alstair Press believes that making this wildly popular novel available for .99 cents will further stimulate sales in book stores. Third Party Candidate is also available at Barnes & Noble (at a higher price.)
Alstair Press is making John L. Dupuis' breakthrough novel "Third Party Candidate" available on Barnes & Noble's Nook. (Regular retail) This promotion will allow over 300,000 Kindle users to enjoy this sensational novel for only .99 cents for a limit time only. This book has broken all sales records for Alstair Press since it was released last August, says senior editor James Welborne. Third Party Candidate has become one of the most downloaded books on the internet and has attracted thousands at Barnes & Noble author events.
Third Party Candidate is the best Political Thriller written in many years, says Katy Schultz of Barnes& Noble. This is an Orwellian novel that takes place in 2012 and beyond. It is a story about what happens when home grown terrorism begins to make the streets of the United States look more like Israel than the homeland. "It is clear by reading this novel that the author has a clear understanding of how our security network works both here at home and abroad," says David Cox of Spot Publishing. "This is the best political thriller I read in twenty plus years… I can't wait to read his next novel. This novel takes the reader from Key West to the sultry jungles of Malaysia.
"A super deal on a great eBook is a great way to sample a sensational new novel, and help spread the word," says James Welborne. Mr. Dupuis' background in the military and working with the NSA has made him an expert in the complexity of coding used by terrorist. This great writer gives us a glimpse of what our national security experts go through on a daily basis to understand how our enemies might attack us here at home. Making our novel available for a limited time for .99 cents is an excellent way to induce additional interest and we hope people enjoy this opportunity while it lasts.
"I really hope that people take the chance to download this book at Amazon or Barnes & Noble because I wrote this book to share with everyone, of course I like being paid by my publisher as well. This is a great offer and I am happy that Alstair Press has made this offer," says author John L. Dupuis. "My friends who have Kindle are always looking for good content to download, something exciting and full of suspense. I really think my novel Third Party Candidate, will help fill that need."
Availability:
Third Party Candidate is available in Trade Paper Back at Amazon.com, Barnes & Noble, and Alstair.net for $17.95.
To view book cover go to:
http://search.barnesandnoble.com/Third-Party-Candidate/John-Dupuis/e/2940000708408/?itm=3&USRI=Third+Party+Candiate)
To view Trailer go to: http://www.alstair.net
###