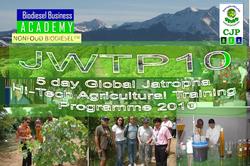 Though we are working on many nonfood oil crops, our research and development is in final stage in respect of some perennial nonfood oil crops that can grow well even with erratic and low rainfall, still giving assured returns is of great significance. An
Jaipur, India (PRWEB) February 24, 2010
Centre for Jatropha Promotion & Biodiesel (CJP) is only the premier organization that arranges the unique training for all stakeholders to provide them the opportunity to understand, learn, act and implement the Jatropha, other nonfood biodiesel plans from ground zero to biodiesel production in a very successful manner.
Since feedstock is the single largest cost component in biodiesel production, this considerably less expensive feed stock give the producers a significant cost advantage over producers use rapeseed and soybean oil. To break the link between biodiesel feedstock and food products; Jatropha and other non-food oil bearing crops are the cheapest and the viable business propositions with independent or combined options. Jatropha will be a vast source of biofuel and a key to reducing our dependence on fossil fuel. Jatropha can replace jet fuel and diesel from petroleum without interfering with food crops or leading to the clearing of forests. The good thing about Jatropha, other nonfood oil crops/trees is that while producing a tree shrub that lives for a long time and does its job, producing oil, while it also sequesters lots of carbon dioxide from the atmosphere.A number of new development projects and plantations involving thousands and hundreds of thousands of hectares with investment of billions of dollars have been initiated during the years 2007- 2009.
A lot of companies jumping on the bandwagon has enhanced the role and responsibility of the CJP to provide them the right steps to start the successful business, ensuring that this crop is planted in the right way and with due cares to what's possible in terms of sustainable farming techniques. Therefore, based on our proprietary knowledge plant science expertise enhanced technology and extensive experience and by integrating technical and managerial issues, CJP has developed the Jatropha Agricultural Training package to deliver competencies through qualified trainers with a practical 'hands on' approach.
Talking on the forthcoming Jatrophaworld training September, 2010, the Director Training Mr. S.S. Mishra said, "Though we are working on many nonfood oil crops, our research and development is in final stage in respect of some perennial nonfood oil crops that can grow well even with erratic and low rainfall, still giving assured returns is of great significance. And that 5 new biodiesel crops/trees shall be introduced to the trainees with the agronomy, technology and economics of the said crops/trees with Jatropha biofuel projects for your own business needs. The multi-pronged worldwide biodiesel business after the discovery of a less expensive feedstock Jatropha Curcas and others may again bloom and play the important role in the larger national strategy to enhance energy independence, reduce greenhouse gas emissions and create new 'green' jobs."
He added, "At this cutting edge 5-day event, you'll receive exclusive access to...essential insider facts and information that will leave you with a solid A-to-Z understanding of Jatropha so you can powerfully shape your business and ensure a positive investment future with this revolutionary biodiesel fuel source." This is why we here at CJP Platform are proud to host this conference and encourage everyone to educate them self's on renewable energy. "CJP Makes Available Accessible Affordable Jatropha training Package that enables all stakeholders to understand, evaluate and explore the Jatropha, other nonfood biodiesel crops for designing and developing Failsafe Energy farms System in a true manner," he said.
He further told that CJP's qualified and certified training consultants provide comprehensive instruction from the extensive range of courses reflecting right from Plant science and reliable state-of-the-art technology. The 5 Day Global Jatropha Hi-Tech Agricultural Training Programme (JWTP) in India at Jaipur, Rajasthan from July-14-18, 2008 was a grand success as attended by 31 countries. The word "excellent", which was used by many trainees to describe their experiences, sums up the JatrophaWorld Training Jaipur, 2008 experience.
With Jatropha cultivation becoming an intensifying worldwide trend, how to 'Do It In Right Way' dominated the entire training, with discussions centering on the best practices in Jatropha for maximum returns. All the trainees who attended were glad to have had the opportunity to take their learning beyond the air-conditioned comfort of the conference room, and out into the actual field where they were able to see, touch, feel, and do Jatropha planting first-hand.
JWTP10 is unique because of the capability to deliver an integrated "One Stop Solution" for biodiesel Jatropha agri-business operations to the agricultural and energy sector worldwide.
Since this is not a conference, it is a hi-tech training programme, the seats shall be limited. Registration is open and should be confirmed today to Secure the seat .
For more information regarding registration, package cost, etc., kindly contact:
Director (Training Division)
Centre for Jatropha Promotion & Biodiesel
B-132, Sainik Basti, Churu Rajasthan, India-331001
Tele: (+91) 1562 255575, +91 141 2335839
Fax: (+91) 141 2335968
Mobile: (+91) 9829423333
Jatrophabiodiesel.org
About CJP
CJP has the privilege to provide most authoritative knowledge platform known for development of sustainable non-food Jatropha oil crop projects, programmes and priorities to feed biodiesel industry worldwide and has established the Biodiesel Business Academy (BBA) to provide quality, impartial, informative and enjoyable advanced level training with enhanced technology in the field of biodiesel production. The BBA delivers training to international and national participants/professionals of green energy industry to increase and distribute knowledge and skills. Whether you are new to the industry, have recently changed jobs or simply wish to refresh your knowledge, our training should become a key part of your personal or company professional development programme.
CJP is dedicated to the development of oil seed bearing trees (OSBT) -- non-food multiple vegetable oil plantation and technologies in order to reduce dependence on fossil fuels, bring greater control and security of fuel supply and reduce dangerous climate changing emissions, including CO2. CJP is pioneering the science, planting and production of inedible vegetable oils by planting of a variety of tree and non-food crop plantation.
CJP is engaged in scientific commercialization of non-food fuel crop- that designs and implements the growing of various oil seed bearing tree (OSBT) crops worldwide in a structured agri-supply chain, value additions of inedible oil seeds and research activities thereon & provides support/services from "Soil to Oil" for development and establishment of the non -food bio-fuel crops.
CJP use its proprietary knowledge to implement programmes through its expertise, technology and IPR knowledge creating new industry and job creation and the offsetting of climate change.
###