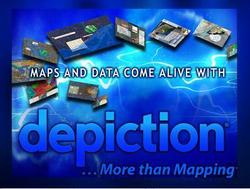 With Depiction, you can create and interact with your own 'what if' scenarios, in minutes, creating a living map unlike anything you've seen before.
Everett, WA (PRWEB) February 23, 2010
Evacuating during disasters. Planning for urban growth. Ensuring the security of your neighborhood. Our communities face challenges like these every day—and a new software tool can help overcome them. Depiction, Inc. announced today the release of Depiction 1.2—desktop mapping, simulation and collaboration software that anyone can use—and afford. Depiction enables users to imagine, depict and share interactive geospatial scenarios like these and many others.
"People know and care about their community, but have previously lacked the tools to visually explore and share the insights, dreams and fears that affect it," said Depiction, Inc. founder and president Mike Geertsen. "With Depiction, you can create and interact with your own 'what if' scenarios, in minutes, creating a living map unlike anything you've seen before."
Depiction 1.2 is a web-enabled desktop program that incorporates technology from the mapping, simulation and collaboration industries to create a visual story—or depiction—about a real or potential scenario. These capabilities have previously been reserved for highly trained systems engineers, analysts and programmers using complex, expensive, enterprise-level installations.
From Agencies to Individuals
Depiction is being used by city and county emergency managers, fire and police departments, health districts, homeland security, universities, businesses and others for a wide range of planning and operational activities. And because it is both affordable and easy to use, Depiction is also used by individual volunteers, from groups like the Red Cross, Community Emergency Response Teams (CERT), Amateur Radio Emergency Services (ARES) and more. Both agencies and individuals have used it to coordinate responses during Hurricanes Gustav and Ike in the Gulf Coast, wildfires in California, the recent winter storms in the Northeast, and other events across the country. Other industries, such as logistics planning, real estate portfolio development and hazardous material handling, are also seeing the value of using affordable, easy to operate software to imagine, depict and share dynamic views of their community.
Imagine
What if the river rose by five feet? By ten? How would key employees make it to work if an earthquake destroyed all the bridges in town? Depiction is "the easiest way for non-programmers to use the power of geographical simulation models," according to Dr. Timothy Hare, Professor of Anthropology in the Institute for Regional Analysis and Public Policy at Morehead State University. The software's simulation tools are immediately accessible to educators, consultants, preparedness professionals and even everyday citizens. As users move elements around the map, floods disable buildings, barriers block planned routes—they can even create custom elements and interactions, such as a blackout that shuts down critical facilities.
Depict
Volunteer groups can map their neighborhoods, companies plot their office locations, politicians keep track of voting patterns and more with Depiction's easy to use mapping technology. Users can combine their own data files with publicly available resources and even data created by advanced Geographic Information Systems (GIS), including ESRI shapefiles, Geographic Markup Language (GML), elevation data models, and more. Even spreadsheets, database files, scanned paper maps or GPS-generated waypoints and tracks can be easily dropped into a depiction file. Depiction automatically populates your scenario with publicly available maps, data and imagery from sources such as NASA, USGS and NOAA. It also brings in crowdsourced maps and data from OpenStreetMap, touted for its immediacy, accuracy and usefulness during the relief efforts after the recent earthquake in Haiti. All this data is saved into a local depiction file, meaning it is available for exploration and simulation even when the Internet is unavailable—on an airplane, or during an emergency.
Share
Depiction's innovative "Live Reports" feature enables individuals and organizations to create visual collaboration networks in minutes, without needing a central server. Emergency managers, security teams, event planners and others can maintain a common operating picture during exercises, events, disasters and more, and can share situational awareness with people in the field, in an operations center—or anywhere in the world. The program's export features also enable users to share their data as images or spreadsheets with individuals who do not use Depiction, or with other GIS systems in the form of GML files. Mike O'Day, Seattle Red Cross Government Liason, praises Depiction's power in "obtaining a visual representation of the common operating picture."
Current customers in other fields are making good use of the product's powerful features. "Depiction will quickly become the most effective tool for any planner to integrate planning data and real property information," says Michael J. Dinn, CRE, of Dinn Focused Marketing.
Available Now
See Depiction 1.2 in action during a live webinar this Thursday, February 25 at 1 PM EST/10 AM PST, hosted by president and founder Mike Geertsen, and Depiction Customer Engagement Director Kim Buike, a retired Navy Captain and Red Cross chapter board member.
Version 1.2 is available immediately. Current Depiction users can upgrade to the latest version at no cost. Depiction 1.2 can be purchased risk-free and downloaded for just $199 at http://www.depiction.com, and requires no subscription or maintenance agreement. Volume discounts and discounts for volunteers are available.
###