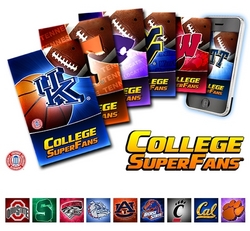 These applications are the first officially licensed college sports apps that give customers the true fan experience for their school, including live game tracker and live scoreboard of games in progress.
Jacksonville, FL (PRWEB) February 23, 2010
Smartphones Technologies, a leading mobile application publisher, today announced that it is building college sports apps for more than 80 Universities to bring custom "College SuperFans" mobile sports applications to iPhone, Blackberry and Android devices.
These applications are the first officially licensed college sports apps that give customers the true fan experience for their school, including live game tracker and live scoreboard of games in progress. Completely customized for each team, College SuperFans apps let fans see everything that's happening with their team as soon as they launch the app. For example, the "Kentucky Wildcats College SuperFans" app gives Wildcats fans the entire UK experience, including AP News stories, AP & BCS Polls, schedules and scores. Similarly, the "Ohio State Buckeyes College SuperFans" app gives Buckeyes fans instant access to Ohio State football and basketball teams with breaking news, updates and live scores.
Each college sports application brings college basketball and football fans custom content dedicated to their team, including:
· Live Game Tracker with real-time scores throughout the game
· Live scoreboard with scores of other games in progress
· Previews of upcoming games, recaps of completed games, and updates with the latest info about the team.
· AP News stories in the app, with links to stories from other sources
· AP & BCS polls and Conference Standings
· Message boards allowing fans to interact with one another regardless of their device, so fans with iPhones can respond to fans with BlackBerry or Android phones.
The first wave of 30 "College SuperFans" individually-branded applications has just launched on the iTunes App Store and are available now for iPhone and iPod Touch. BlackBerry and Android versions of the apps will be available in the near future. The first colleges to launch "College SuperFans" applications include many of the top college basketball teams in the country: Kentucky Wildcats, Purdue Boilermakers, Kansas State Wildcats, West Virginia Mountaineers, Ohio State Buckeyes, New Mexico Lobos, Georgetown Hoyas, Pittsburgh Panthers, Michigan State Spartans, Wisconsin Badgers, Gonzaga Bulldogs, Tennessee Volunteers and Temple Owls.
Other team apps available now include: Auburn Tigers, Boise State Broncos, California Golden Bears, Cincinnati Bearcats, Clemson Tigers, Florida State Seminoles, Georgia Bulldogs, Louisville Cardinals, LSU Tigers, Memphis Tigers, Miami Hurricanes, Michigan Wolverines, Nebraska Cornhuskers, Ole Miss Rebels, Oregon State Beavers, South Carolina Gamecocks, South Florida Bulls, and UCLA Bruins.
As a bonus, fans can track additional favorite teams, or keep a watchful eye on rival college teams by adding them to their favorites list, giving them access to the same depth of news and updates about other teams. In future updates, Smartphones Technologies plans to expand coverage to include content for additional sports. Smartphones Technologies will also enable each University to publish updates to their fans through the application with news updates and messages.
"College SuperFans apps bring all the information fans care about- customized for your school- directly to the top level menu. One tap lets you see what's going on with your team as soon as you launch the app," said Mike Merrill, Founder and CEO of Smartphones Technologies. "This is all about your school with the content fans care about. Look, feel and bleed your school colors right from the app."
Smartphones Technologies uses its proprietary "SmartApp Platform Engine" to manage content and dynamically update apps on multiple devices. This platform allows Smartphones to manage content on apps on various application storefronts, including: Apple App Store, Google Android Marketplace, Blackberry App World and Palm App Catalog. When new content is added, it automatically updates apps running on iPhone OS, Blackberry OS, Palm Web OS, Android, BREW, J2ME and WAP.
About Smartphones Technologies
Founded in 2002, Smartphones Technologies is a mobile application publisher specializing in unique media content for all the most popular platforms including iPhone, Blackberry, BREW, J2ME, Palm Pre, Windows Mobile and Symbian. Smartphones Technologies has developed applications for motion picture studios, sports franchises, music companies, and brand owners including various college and pro sports apps. Its application library is available on carriers, portals and App Stores worldwide. Smartphones is also the largest publisher of college songs on iTunes, and has licenses with more than 180 colleges and universities. Based in Jacksonville, FL, Smartphones Technologies is privately held. For more information, please visit http://www.smartphonestech.com.
NOTE TO REPORTERS:
If you would like to download and review any currently available applications for editorial-only purposes at no cost, please contact Erica Smith (see information below). Screen shots are also available upon request.
MEDIA CONTACT
Erica Smith
Sonus Public Relations
415-830-4530
erica.smith(at)sonuspr(dot)com
College SuperFans is a registered trademark of Smartphones Technologies, Inc. All college and university names are trademarks of the respective university.
# # #