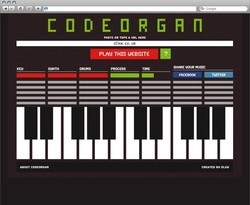 "Within 10 minutes of launch the Codeorgan had gone global"
(PRWeb UK) February 25, 2010
What do websites sound like? The question was theoretical but became a reality in just a few short weeks. DLKW's challenge was to ensure the music created by Codeorgan was unique to each website; the initial prototype produced tunes that varied little from site to site and were extremely dull.
To tackle this, DLKW created an algorithm that calculates the key signature for each site by finding the most commonly used musical note in the page content and, depending on that number being odd or even, placing it in the Major or Minor scale of that particular key.
Codeorgan then plays the content based around the pentatonic scale of that key (DLKW chose the pentatonic scale because it had the best name). This had an immediate impact on the musicality of webpages, as did adding in a variety of synthesisers and drum loops, chosen mathematically by calculations based upon the content of the page it's playing.
Codeorgan went live on Thursday 18th February and within 10 minutes, despite no seeding strategies due to zero budget, DLKW noticed it was already being talked about across the globe. 4 days later and the site has had a quarter of a million visitors. It has been blogged by thousands and is averaging a tweet every minute. A Google search today pulls back 75,000 results.
Now DLKW has to see whether a functional webpage can be created from the upload of a piece of audio? It's an interesting thought and DLKW loves a challenge.
###