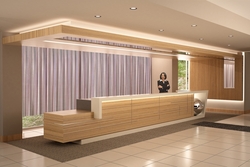 The source of inspiration for the architectural blueprint and internal visual lies in the literal translation of Umhlanga - meaning place of reeds in isiZulu.
(PRWEB) February 24, 2010
Opening in May 2010, Southern Sun's new Garden Court Umhlanga hotel will charm the KwaZulu Natal travel experience. Whether in the region for business or leisure, guests will be assured of the definitive Garden Court experience where a great stay starts and ends with a great day.
With a fresh, contemporary design concept incorporating the area's inherent influence, the new hotel (located in close proximity to the Umhlanga Gateway complex and nearby beaches) will encapsulate Garden Court's brand essence of a rejuvenated hotel experience.
The source of inspiration for the architectural blueprint and internal visual lies in the literal translation of Umhlanga - meaning place of reeds in isiZulu. The hotel will therefore incorporate the literal aesthetic of a reed which is characterised by an aubergine sheath and green stem. This has influenced the sophisticated style, colour palette and chosen photographic reed inspired artworks.
When entering the hotel, guests will feel welcomed and enchanted. The public spaces, from the double volume entrance and reception through to the dining area will mirror the intrinsic theme while imbuing warmth and comfort.
A lobby bar and internet stations will be situated adjacent to the enclosed leafy courtyard where a pool with a play ledge will allow children to splash in delight. The open lounge will provide a comfortable area for guests, either to relax, conduct business or enjoy a light meal. In addition to meeting guests' culinary needs, the restaurant will also facilitate private functions while meeting rooms will cater for business guests' requirements for privacy and professionalism. For exercise enthusiasts, a fully equipped gym will be situated on the fifth floor.
The hotel's architectural exterior will merge with the interior look and feel. Geometric lines will be incorporated throughout, from the façade to internal design features including porcelain floor finishes, and reconstituted timber furnishings. However, there will be a deviation from strict geometry in the realms of broad loom carpeting, feature walls and softs. This will create a sense of movement and naturalness, just like the reed, which although straight in nature, also has fluidity.
Décor elements will include plush seating in earthy tones and rich textures, splattered with elements of aubergine and green hues. Light wood furnishings with grey reed-like undertones, minimalist lines, floor to ceiling glass doors and windows and ambient lighting will create a sensation of spaciousness.
The result will be an interior that fits seamlessly into the architectural space, as well as being cozy and inviting.
The hotel will offer a choice of queen or double rooms, as well as inter-leading options. The bedrooms - with walnut timbers and crisp white furniture - and en-suite four piece bathrooms including bath and shower facilities will also reflect the contemporary nature of the hotel. The neutral base colour palette utilised in both the bedroom and bathroom will incorporate the use of sea green glass mosaics and reed textured porcelain floor tiles - all reinforcing the coastal location, as well as instilling a sense of calm and relaxation.and redefining a great stay.
###