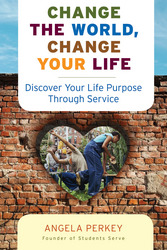 "We can all make a difference for the better in countless ways, large and small. Angela's book is a clarion call for all of us to bestir ourselves for the larger good." --W. Taylor Reveley III, President of the College of William and Mary
San Francisco, CA (PRWEB) February 25, 2010
New book arrives just in time for April's National Service Month: Change the World, Change Your Life shows young people how to get involved and effectively address the problems they care most about, from their own backyard to the world stage. It provides a kind of blueprint for being of service and includes several pages of links to practical resources for starting a non-profit or other service agency.
18,000 children die of hunger every day. By 2030, there will be no glaciers left in Glacier National Park. 47 million Americans do not have health insurance. From job loss and foreclosures to global warming and poverty, it's hard not to feel powerless in the face of such depressing news. Yet, many young people today are more eager than ever to get involved, to do something to improve the world. They crave meaningful lives that are worth remembering.
Laced with stories of individuals who have found ways to give, large and small, Change the World, Change Your Life is exactly the right inspiration for these times – as young people face a difficult employment horizon and are looking for meaningful ways to be of service in the world.
PRAISE FOR THE BOOK
"Change the World, Change Your Life captures the spirit of service and leadership in the life of the everyday person. One voice can change the world, and this book shows you how." -- Senator Bill Frist, M.D., Former U.S. Senate Majority Leader
"For a generation committed to public service, Angela Perkey has provided the role models and their road maps–and we are all left more hopeful about their future, and ours." -- Bill Purcell, Director, Harvard Institute of Politics at the John F. Kennedy School of Government and former Mayor of Nashville
"Inspiring, practical, motivating, Change the World, Change Your Life is a carefully researched easy read that packs a punch." -- Ingrid Newkirk, President, PETA
"We can all make a difference for the better in countless ways, large and small. As we help others, we will find greater meaning for our own lives. Angela Perkey describes these realities in compelling fashion. Her book is a clarion call for all of us to bestir ourselves for the larger good." -- W. Taylor Reveley III, President of the College of William and Mary
"Community service is mostly understood as helping others. That is, of course, important. But Angela Perkey compellingly shows us that community service is also about helping ourselves. Making the world a better place makes us better people-happier and more fulfilled. That is a lesson from which we all can benefit." -- Michael K. Powell, former Chair, Federal Communications Commission
"Serving others is essential to a happy and meaningful life. This book shows you how to do it." -- James E. Ukrop, Chairman, First Market Bank
ABOUT THE AUTHOR
Angela Perkey is the founder of Students Serve, a national nonprofit that awards service grants to college students. Students Serve has been mentioned or featured in several publications, including the Chronicle of Higher Education and USA Today. A native of Nashville, Tennessee, Angela lives in the Washington, D.C. area. She can be found online at http://www.changetheworldchangeyourlife.com.
###