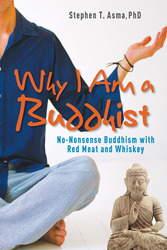 I like the White Sox, and I eat meat. If a guy like me can be a Buddhist...trust me, there's room for you." Stephen T. Asma, Ph.D.
San Francisco, CA (PRWEB) February 25, 2010
For answering age old questions like "Who am I," "Why am I here," "How can I live a meaningful life," Asma has found the answers in Buddhism, but a Buddhism he has shaped to fit rather than one-size fits all. He dispenses with the "New Age mush" and takes "the California out of Buddhism" to form a Buddhism that is accessible and inclusive for people, people who may be put off by organized religion or dogma stacked on dogma. He builds the case for an authentic modality in his own iconoclastic, irreverent, and hardheaded way.
"I'm not a monk, or even a member of a temple. I have studied Buddhism with some amazing scholars and practitioners, and I've taught Buddhism for many years in the States and Asia—but I think gurus are screwballs. I probably drink too much, and I'm not in the least bit interested in sexual abstinence. I like the White Sox, and I eat meat. If a guy like me can be a Buddhist...trust me, there's room for you." ~Stephen T. Asma
From the Introduction:
Brush strokes are necessarily broad, but hopefully accurate. Exceptions to my generalizations will be inevitable, and the absence of someone's favorite Buddhist story, thinker, or text will be maddening to the initiated. But no matter the flaws of such a format, such a book will hopefully do two things well: first, introduce unfamiliar ideas to the novice, and second, remind and inspire the old hand. The third possible function of such a personal book is to show how someone applies, or puts into practice, the theoretical teachings.
This book is not going to stand behind you with sword at the ready. I haven't done that to myself, so I'm certainly not going to get preachy with you. I'm a fan of the gentle but persistent application of dharma—the Middle Way between the zealot and slacker approaches.
Chapters include:

A Newly Elevated Status for My Private Little Soul: Discovering Transcendentalism
Climbing the "Everest" of Cravings: Buddhism and Eros
A Natural Exercise in No-Self: Buddhism and Parenting
Science Is Mysticism—without the Magical Thinking
Jack Kerouac, Haiku, Charlie Parker, and the Artistic Quest
Work: Wealth and Worth
Dharma and the Global Village
ABOUT THE AUTHOR
Stephen T. Asma, Ph.D., is professor of philosophy and interdisciplinary humanities at Columbia College in Chicago. He is the author of Buddha for Beginners. He is also a jazz musician and a popular guest on Chicago area NPR programs.
###