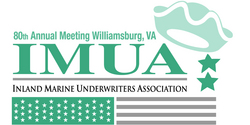 "If you are in the P&C insurance business, you won't want to miss attending the IMUA's 80th anniversary annual meeting," said Ron Thornton,IMUA president
New York, NY (PRWEB) February 25, 2010
The Inland Marine Underwriters Association (IMUA) will be celebrating its 80th anniversary at the Kingsmill Resort & Conference Center in Williamsburg, VA from May 16-19, 2010.
The meeting kicks off with a `change of command' as Rich Soja, Chubb, the current IMUA chairman, will hand the gavel to Sophia Phillips; The Hanover Insurance Group, as the new chair of the IMUA. Ron Thornton, IMUA President & CEO, will also deliver the "State of the Association" report. Following these business meeting events there will be a full schedule of educational sessions and trade show participation over the course of the meeting.
On Monday, attendees will first hear from the Chairman and CEO of Willis Group Holdings, Joe Plumeri, who will give his view on the current state of the P&C insurance industry from a producer's perspective. After a brief trade show break the topic of Wind/Solar Construction and Underwriting will be discussed by two principals of the Holmes Murphy Agency's Renewable Energy Division, Doug Muth and Fred Hilsendager. Adding his expertise to the panel will be Michael Maloney, Gen Re. Among the subjects to be covered are the opportunities and perils associated with this evolving area of sustainable energy and conservation.
On Tuesday, May 18, 2010 the day begins with a discussion about the mysteries of Freight Intermediaries – Who Are They and What is Their Liability. Leading the discussion in the evolving area of transportation intermediaries will be Henry Seaton, Esq. and Mark Yunker of RJ Ahmann. Immediately following this session, the IMUA attendees will get the latest updates on Cargo Transit and Warehouse Theft – Tracking and Recovery presented by Charles Forsaith, Purdue Pharma, and Keith Lewis, Georgia Bureau of Investigation.
This year's luncheon speaker will be Susan Zoboli, CPCU, the Director for Purchasing and Insurance for the Colonial Williamsburg Foundation. Ms. Zoboli will address the P&C concerns of an entity that must secure and protect a wide spectrum of fine arts and antiquities, plus interject some anecdotal stories of the area.
Capping off the educational sessions will be an in-depth, interactive discussion of topical issues in the construction industry – delay in start-up issues; abandoned construction projects; the impact of the financial marketplace on construction; private and public partnership construction and the `stimulus' – where did the dollars go? Our panel includes Kevin Coen – Liberty Mutual; Vincent Zegres – AON Risk Services; Shari Nztovitz – Silverstein Properties, LLC; and Heidi Strom – AON Construction Services Group.
On Wednesday, May 19, 2010, IMUA attendees can take advantage of a special "free" AAIS/Hartford Steam Boiler breakfast/educational meeting – Equipment Breakdown in Construction.
For more information or to register for the IMUA Annual Meeting visit http://www.imua.org or visit the association's new e-commerce site http://www.getonline.imua.org to register on line.
###