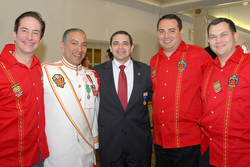 It is a tremendous honor to be involved with El Rey Feo LXII in his pursuit of educating the leaders of tomorrow
San Antonio, TX (Vocus) February 25, 2010
Dan Markson, Sr. Vice President Development, and Education Minister for El Rey Feo LXII, was in Laredo this past weekend for Washington's Birthday Celebration to honor the occasion and pass along El Rey Feo's message.
El Rey Feo LXII Baltazar "Walter" Serna, Markson Education Minister and members of the Royal Court celebrated this auspicious occasion with other local and state dignitaries and VIPs by attending the International Bridge Ceremony, also known as the "Abrazo", participating in Washington's Birthday Parade and the Mr. South Texas Luncheon.
"I would like to personally thank Dan Markson and the NRP Group not only for their contributions, but for their hard work and dedication during my reign. In his role as Education Minister, Markson is working daily to ensure that we visit as many schools as possible to pass along my message, which encourages kids to stay in school, study hard and pursue higher education," said Serna.
"It is a tremendous honor to be involved with El Rey Feo LXII in his pursuit of educating the leaders of tomorrow," said Markson, 2009 Recipient of the Barbara Jordan Community Service Award. "His mission is a true call to action and we are making a huge impact in the lives of the youth of San Antonio."
About El Rey Feo:
The Mission of the Rey Feo Scholarship, Inc. is to financially support the aspiration of deserving high school seniors to obtain a college/university education regardless of race, color or religion. For more information on El Rey Feo LXII, Baltazar "Walter" Serna and his reign, visit http://www.walterforreyfeo.com.
About The NRP Group LLC: Developer, Builder and Management Company
The NRP Group is a full-service developer, general contractor, and property manager providing a broad range of services. From start to finish, every project The NRP Group takes on is carefully contemplated and executed to maximize investment return, cost efficiency, productivity and satisfaction. The NRP Group has been recognized as NAHB's 2009 Multifamily Development Firm of the Year and has been ranked number one in the Top 50 Affordable Housing Developers for 2007, 2008 and 2009 by Affordable Housing Finance.
Currently, the NRP Group LLC has a partnership with the City of Laredo, known as La Terraza, Ltd., which proposes to develop, construct and manage a 128 unit family development to be located at approximately Ejido Blvd south of Wormser Road.
Financing for this development will be applied through the State's 9% tax credit program. The application for this financing will be submitted March 1st, with awards made by July 29th. Once awarded, the first building and community center will be completed within 8 months after closing with total construction completed within 18 months.
Since it's founding in September 1995 by Alan F. Scott, T. Richard Bailey and J. David Heller, the company has experienced continual growth in the fields of single-family, multi-family and senior housing, as well as commercial and retail properties. In all, more than 13,500 multi-family and single-family housing units have been built with another 2,275+ planned in 2010.
In 2003, the owners formed NRP Management, which by year-end 2010 will manage nearly 70 properties encompassing over 7,500 market rate and tax credit family and senior apartment properties in Ohio, Michigan, North Carolina, Virginia, Texas, Indiana, New Mexico and Arizona.
The NRP Group, LLC has offices in Cleveland, Ohio; San Antonio, Texas; Phoenix, AZ; Raleigh, North Carolina; for more information, call (216) 475-8900 or visit http://www.nrpgroup.com.
###