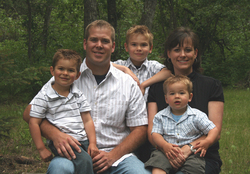 All of us are inspired knowing that every little step does make a difference. There is no better business to be in then one with meaning.
Midland (PRWEB) February 24, 2010
OnlyGreen is proud to announce that one of its founding EcoAdvisors has reached the highest level of achievement, EcoDirector status. Michelle and Kris Harvey reached this level in just under one year through their motivation, dedication and a passion for developing their business.
Michelle and Kris have been with OnlyGreen from the very beginning. Starting out as one of the first OnlyGreen EcoAdvisors, they have attended numerous tradeshows and developed a strong team of like minded individuals. As one of our Founders, the knowledge and insight that Michelle and Kris have brought to their business and to OnlyGreen has certainly been appreciated.
"Kris and I are so excited that we have had the chance to be a part of OnlyGreen. The experience so far has proven to be something truly amazing. We are so thankful we have the opportunity to work beside such a passionate group of men and women. All of us are inspired knowing that every little step does make a difference. There is no better business to be in then one with meaning." says Michelle Harvey. "OnlyGreen is our way to support and help educate others on how easy it can be to live a greener lifestyle. We are also able to obtain financial stability and personal growth with the luxury of a stay at home lifestyle. We can't wait to have more people join us in living and/or promoting a greener lifestyle. Our goal now is to help others achieve what we have."
It was not long into their business that Michelle stated very clearly, that they would become the first EcoDirector "This last year of growing our OnlyGreen business has been so much fun for our whole family. We were able to achieve Founder Status, earn a trip, as well as meet our big goal of becoming the first EcoDirector," says Harvey.
Michelle and Kris are always open to growing their team and sharing the green lifestyle with those around them. "Please visit our website and contact us if you would like more information on OnlyGreen products or being a part of this ground floor business opportunity. We look forward to what a greener future holds for us all," closes Harvey.
For more information on OnlyGreen, please go to http://www.onlygreen.com
To contact Michelle and Kris Harvey, OnlyGreen EcoDirector and Founder, please go to http://www.onlygreenproduct.com
About OnlyGreen:
OnlyGreen is the first Direct Selling Company to offer a complete range of consumer product alternatives that promote a healthier lifestyle and a cleaner environment. Using a six step Product Selection Criteria, the company is dedicated to providing products that do not contain harmful chemicals, can be reused or recycled and that have virtually no impact on the environment when disposed of properly. Through their team of Independent EcoAdvisors, located across North America, OnlyGreen helps consumers make informed purchasing decisions as they transition into a greener lifestyle.
###