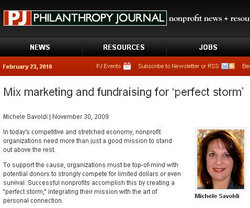 Mix marketing and fundraising for perfect storm
Columbus, OH (Vocus) February 25, 2010
Shoestring Creative Group affiliate consultant Michele Savoldi has been tapped by the Philanthropy Journal to provide expert tips articles for nonprofit organizations on subjects such as social media marketing .
Known as "the nonprofit's agency" because it exclusively serves nonprofit organizations, Shoestring Creative Group is an East Coast-based based communications firm that provides services in Ohio through Savoldi, its local affiliate.
In a recent article on the Philanthropy Journal website (http://www.philanthropyjournal.com) entitled "Mix marketing and fundraising for perfect storm," Savoldi provides nonprofit organizations with this advice: "In today's competitive and stretched economy, nonprofit organizations need more than just a good mission to stand out above the rest. To support the cause, organizations must be top-of-mind with potential donors to strongly compete for limited dollars or even survival. Successful nonprofits accomplish this by creating a perfect storm, integrating their mission with the art of personal connection. The perfect storm begins with defining the donor."
Shoestring Creative Group and its affiliate nonprofit marketing consultants have been providing expert articles to the Philanthropy Journal since February 2008. Savoldi is a recent addition to this group of experts.
About Michele Savoldi
Michele Savoldi was selected by Shoestring Creative Group as a new affiliate consultant in 2009. She began her marketing and PR career in radio more than 20 years ago. Since then, Michele has worked in the industry either at an advertising agency, corporate office, or nonprofit organization. Being passionate about making a difference for the greater good, she dedicated her career to serving non-profit organizations. In her 15 years in the nonprofit sector, Michele has become a recognized leader using her extensive experience to strategically market and manage many nonprofit brands creating multi-media success with a clear call to action. For more information, go to: http://www.shoestringgroup.com/MicheleSavoldi
About Shoestring Creative Group:
Shoestring Creative Group is an award-winning, full-service marketing communications agency that exclusively serves nonprofits and provides services regardless of budget restrictions. As national leaders in nonprofit communications, the agency is committed to providing creative, affordable solutions specifically created to meet the needs and challenges of nonprofits. They are one of only a few firms in the country that specialize in serving this unique niche. Founded in 2001, Shoestring Creative Group is headquartered in Gardiner, Maine, and has clients and affiliates in cities across the country. For more information, go to http://www.shoestringgroup.com.
###