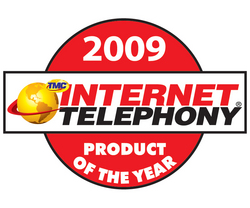 The Brekeke SIP Server offers higher growth potential since it includes TCP-UDP support, Microsoft OCS compatibility, plug-in support. In addition, we will be adding IPv6 support in an upcoming version of Brekeke SIP Server Advanced Edition."
San Mateo, CA (PRWEB) February 24, 2010
Brekeke Software announced today that Technology Marketing Corporation's (TMC®) INTERNET TELEPHONY magazine has named Brekeke SIP Server Advanced Edition as a recipient of its 2009 Product of the Year Award.
Brekeke SIP Server Advanced Edition provides a reliable and scalable SIP-based communication platform for telephony carriers, SIP service providers and all other SIP applications and devices. Brekeke SIP Server is so reliable that it is used in many mission-critical environments that require high availability, such as military communications and emergency communication systems. The comprehensive feature set of the Advanced Edition includes SIP redundancy support for high service availability, greater product performance for handling a large number of calls and media streams, and multiple-domain hosting for serving many customers in a single environment. The Advanced Edition also offers original NAT traversal functionality, which provides solutions for many networking issues. Supported operating systems include Microsoft Windows, Linux, Solaris 10 and Mac OS X.
"Brekeke SIP Server Advanced Edition is the perfect product for service providers who are looking for a reliable and robust platform for their service. The redundancy feature of the Advanced Edition is very clean yet very powerful," said Shinichi Mitsumata, CTO, Brekeke Software, Inc. "The Brekeke SIP Server also offers higher growth potential since it includes TCP-UDP support, Microsoft OCS compatibility, plug-in support, and much more," added Mr. Mitsumata. "In addition, we will be adding IPv6 support in an upcoming version of Brekeke SIP Server Advanced Edition in order to increase interoperability with additional products and services."
"INTERNET TELEPHONY is proud to grant Brekeke Software a 2009 Product of the Year Award for their Brekeke SIP Server Advanced Edition," said Rich Tehrani, CEO, TMC. "Brekeke Software has proven its commitment to quality and excellence while addressing real needs in the marketplace. We're happy to recognize and honor Brekeke Software for their development of IP communications technology. We look forward to more innovative solutions from them in the future."
For more information about the benefits and features of Brekeke SIP Server Advanced Edition, please visit http://www.brekeke.com/products/products_sip_advanced.php
###