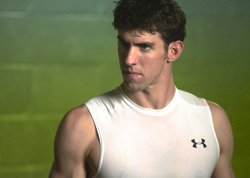 "This is one of our most ambitious efforts to elevate the heritage of our training platform, and we feel that Michael Phelps – a true global icon – is an ideal ambassador for the 'Protect This House. I Will.' message."
Baltimore, MD (PRWEB) February 24, 2010
Under Armour, (NYSE:UA) the Baltimore-based leader in performance apparel and footwear, announced today the launch of a new national multi-faceted campaign, "Protect This House. I Will.", which features breakout stars from multiple sports and showcases the company's deep-rooted commitment to training and performance.
The :60 spot will also serve to introduce Michael Phelps to the Under Armour family, as the 14-time Olympic gold medalist begins his partnership with the Brand. The commercial will debut on February 27th on NFL Network and will also run on ESPN, ESPN2, CBS SPORTS, Direct TV, MLB.com, Slam.com, and Stack.com. Under Armour will also utilize multiple social media channels to distribute the spots, including YouTube postings and direct integration into the athletes' Facebook and Twitter accounts. The campaign will run on TV, print, online and out of home advertisements nationwide.
Coinciding with this week's NFL Combine, of which Under Armour is the presenting sponsor, "Protect This House. I Will." chronicles Phelps, as well as Under Armour athletes Milwaukee Bucks rookie Brandon Jennings; former Oklahoma State wide receiver Dez Bryant; and UFC champion Georges St-Pierre, as they endure grueling training sessions. Each athlete then declares his personal "I Will" pledge, vocalizing his own determination and overcoming challenges to "Protect This House." Targeting a younger demographic and inspiring athletes at all levels to perform their best, "Protect This House. I Will." represents the newest iteration of Under Armour's iconic tagline.
"We're very excited to launch 'Protect This House. I Will.', which simultaneously highlights Under Armour's core commitment to combine training and provides an intimate look at some of our most dynamic young athletes. Consistent with Under Armour's mission to make all athletes better, these individuals share an incredible passion to be the best at their sport," said Steve Battista, Under Armour Senior Vice President, Brand. "This is one of our most ambitious efforts to elevate the heritage of our training platform, and we feel that Michael Phelps – a true global icon – is an ideal ambassador for the 'Protect This House. I Will.' message."
"I'm looking forward to a great relationship with Under Armour," said Phelps. "As a Baltimore native, I have always been a fan of the Brand and admired their success. Given our mutual commitment to training, this is a natural partnership, and 'Protect This House. I Will' is a perfect way to kick things off."
Under Armour's partnership with Phelps is another bold move for the Brand, which continues to target premier athletes from across all disciplines, including Jennings, Bryant and St-Pierre, as well as Olympic gold medalist Lindsey Vonn, X-Games gold medalist Lindsey Jacobellis, Olympic volleyball player Kim Glass and lacrosse superstar Paul Rabil.
The "Protect This House. I Will." campaign was co-created by Under Armour's in-house creative team and Shilo (http://www.shilo.tv) creative production company. Shilo also produced the new spot. Consumers can visit http://www.underarmour.com to make their own personal "I Will" pledge.
Under Armour, the originators of performance apparel, has transitioned athletes into moisture-wicking apparel since 1996. Under Armour products are sold worldwide and worn by athletes at all levels, from youth to professional, on playing fields around the globe.
About Under Armour, Inc.
Under Armour® (NYSE: UA) is a leading developer, marketer, and distributor of branded performance apparel, footwear, and accessories. The brand's moisture-wicking synthetic fabrications are engineered in many different designs and styles for wear in nearly every climate to provide a performance alternative to traditional natural fiber products. The Company's products are sold worldwide and worn by athletes at all levels, from youth to professional, on playing fields around the globe. The Under Armour global headquarters is in Baltimore, Maryland, with European headquarters in Amsterdam's Olympic Stadium, and additional offices in Denver, Hong Kong, Toronto, and Guangzhou, China. For further information, please visit the Company's website at http://www.underarmour.com.
###