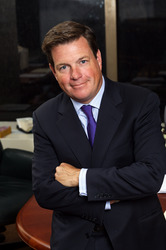 Fargo, ND (PRWEB) February 24, 2010
Marketing technology company Avenue Right announces the appointment of Radio Advertising Bureau President & CEO Jeff Haley to its Board of Directors.
Avenue Right provides a channel-neutral platform that streamlines the media buying process for small to mid-size advertising agencies. The web-based software enables the process of planning, scheduling, buying, and measuring both online and offline media—radio, broadcast and cable TV, print, online.
As President and CEO of the Radio Advertising Bureau(RAB), Jeff Haley has steered the association in a business-driven direction with defined objectives to share knowledge, facilitate consensus, and increase revenue for the radio industry.
From 2001 to 2006 Haley was Senior Vice President for Time Warner Global Marketing, where he leveraged $7.5 billion of media investment from key advertisers across Time Warner's divisions and was responsible for creating marketing programs for some of the largest advertisers in the U.S.
Haley serves on the Board of Directors for the Ad Council, and he is a member of the Arbitron Radio Advisory Council.
As a member of Avenue Right's Board of Directors, Haley brings not only his professional background of leadership in media and marketing, but in-depth knowledge of the benefits of radio as a medium for local advertising and the common goal of making radio advertising easier to buy.
Avenue Right's platform is channel-neutral and allows media buyers to plan, buy, and analyze local online and offline advertising from a central location—radio, broadcast and cable TV, print, or online. Among other efficiency gains, the technology introduces a standardized electronic RFP process designed to simplify the process of gathering information, negotiating media schedules, and ultimately confirming and analyzing the buy.
The Radio Advertising Bureau serves more than 6,000 member Radio stations in the U.S. and over 1,000 member networks, representative firms, broadcast vendors, and international organizations. RAB leads and participates in educational, research, sales, and advocacy programs that promote and advance radio as a primary advertising medium.
Haley's appointment to the Avenue Right Board of Directors is effective February 19, 2010, with length of term being two years.
About Avenue Right
Avenue Right provides web-based media buying software that enables advertising agencies to plan and buy local media more efficiently for their clients—any medium, any market.
The leader in media buying automation, Avenue Right streamlines the media buying process for small to mid-size advertising agencies looking to do away with manual processes, provide better visibility for clients, and increase efficiencies in their day-today jobs.
Avenue Right helps agencies meet the needs of their clients by getting the rest return on their advertising dollars through workflow tools and real-time information.
###