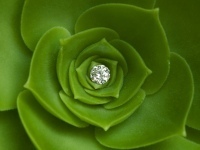 "Consumers are being misled by the 'conflict-free' diamond label," says Beth Gerstein, co-founder of Brilliant Earth.
San Francisco, CA (PRWEB) February 25, 2010 -–
Visionary leaders in the diamond industry are reacting to recent events in Zimbabwe that illustrate failures of the Kimberley Process (KP), which the industry relies on to prevent diamond sales from funding conflict.
In recent weeks, it has become clear that blood diamonds funding murder, forced labor, rape, and political oppression in Zimbabwe are reaching global consumer markets labeled as "conflict-free." (See blood diamond fact sheet for more details).
Resigning from his position at the World Diamond Council, highly influential industry expert Martin Rapaport protested the industry's inaction: "Tens of thousands of carats of blood diamonds are now in dealers' inventories and jewelers' showcases — and are being actively sold to consumers. . . Instead of eliminating blood diamonds, the KP has become a process for the systematic legalization and legitimization of blood diamonds." Rapaport was a principal architect of the KP, along with Ian Smillie, who has also criticized it as a failure.
"Consumers are being misled by the 'conflict-free' diamond label. With a broken system, it's not enough to accept a diamond's Kimberley Process certification, you have to know the practices of the mine it came from," said Beth Gerstein, co-founder of Brilliant Earth, a national online jeweler that created a new business model in response to the KP's failures.
"There are other certification and mining guarantees that a retailer can use in place of the flawed Kimberley Process. Unfortunately it requires a proactive and ethical jeweler to now make sure blood diamonds aren't in showcases, and very few are willing to put in the effort to do so. We've shown it's possible to sell jewelry consumers feel good about, and hope other retailers join us in reform of a notoriously harmful industry," said Gerstein.
Beth Gerstein is available for interviews about diamond industry reform and socially conscious jewelry through the above media contact.
# # #