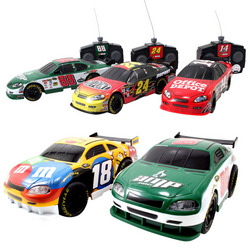 Lights & Sounds, and $9.99 for the 7.5
City of Industry, CA (PRWEB) February 25, 2010
Jada Toys, Inc. unveils a brand new officially licensed NASCAR toy vehicle line, featuring the sport's superstar drivers Dale Earnhardt Jr., Jeff Gordon, Jimmie Johnson, Tony Stewart, and Kyle Busch. The NASCAR product line, which includes Radio Control, Lights & Sounds, and Motorized Pullback vehicles, offers all the NASCAR action and authenticity its loyal fans have come to love, while still maintaining affordable price points so everyone can join in the fun.
Jada Toys' NASCAR Radio Control and Pullback toy vehicles bring all the heart pounding, high speed action home with the authentic look and feel true NASCAR fans of all ages will appreciate. Providing full function control with a high speed motor, the 1/24th and 1/64 th micro RC vehicles perform just as good as they look. With the new Quick Charger Controller feature for the 1/64th micro RC's, drivers spend more time in the action and less in the pits.
For the younger NASCAR enthusiast, Jada introduces NASCAR Lights & Sounds vehicles bringing a fresh new look and feel to the category. Available in 5.5" and 7.5" sizes, these highly stylized racers feature forward racing action, driver audio, sound effects, and flashing lights which are sure to keep future NASCAR superstars entertained for hours on end. With no bulky buttons, activating all the fun is as easy as pressing in the doors or hood.
"These Jada toys hit an important target for us," said Blake Davidson, managing director of licensed products for NASCAR. "As a sport, we are always looking for the best way to allow our fans to experience the sight, sound and feel of our sport. This line of toys does just that by putting NASCAR into the hands of our young fans."
Most importantly, the NASCAR toy vehicle line from Jada features the top drivers found in the sport today. Fans can select from #88 Dale Earnhardt Jr., #24 Jeff Gordon, #48 Jimmie Johnson, #14 Tony Stewart, and #18 Kyle Busch. "Joining forces with NASCAR was a simple decision. Soon retailers will see that the Jada execution and price structure will be reving up their sales once again." explains Bill Simons, Jada's SVP of Worldwide Sales.
These new products are speeding onto shelves now at Wal-Mart, Target, Toys-R-Us, and other toy retailers nationwide and are available at the NASCAR.COM Superstore as well. The suggested retail prices are $14.99 for the 1/24th scale RC, $10.99 for the 1/64th scale Micro RC, $3.99 for the Motorized Pullback, $6.99 for the 5.5" Lights & Sounds, and $9.99 for the 7.5" Lights & Sounds.
For more information about the NASCAR toy vehicle line and all other innovative products from Jada Toys, please go to http://www.jadatoys.com.
About Jada Toys, Inc.
Now in its tenth year, Jada Toys, Inc. is a privately held; leading manufacturer of authentically licensed and highly stylized die-cast collectibles, radio control vehicles, and toys. Popular brands produced by Jada include Battle Machines, DUB City, Big Time Muscle, NexGen Muscle, and High Profile. Jada has also acquired major toy licenses for top brands such as Marvel Entertainment, Guitar Hero, Speed Racer and Chop Socky Chooks. Jada Toys' products can be found at major retailers and hobby stores worldwide.
About NASCAR
The National Association for Stock Car Auto Racing, Inc. (NASCAR) is the sanctioning body for one of North America's premier sports. NASCAR is the No. 1 spectator sport - with more of the top 20 highest attended sporting events in the U.S. than any other sport, and is the No. 2 rated regular-season sport on television. NASCAR races are broadcast in more than 150 countries and in 20 languages. NASCAR fans are the most brand loyal in all of sports, and as a result more Fortune 500 companies participate in NASCAR than any other sport.
NASCAR consists of three national series (the NASCAR Sprint Cup Series, NASCAR Nationwide Series, and NASCAR Camping World Truck Series), four regional series, and one local grassroots series, as well as two international series. Also part of NASCAR is Grand-Am Road Racing, known for its competition on road courses with multiple classes of cars. NASCAR sanctions more than 1,200 races at 100 tracks in more than 30 U.S. states, Canada and Mexico. Based in Daytona Beach (Fla.), NASCAR has offices in New York, Los Angeles, Charlotte (N.C.), Concord (N.C.), Conover (N.C.), Bentonville (Ark.), Mexico City, and Toronto.
###