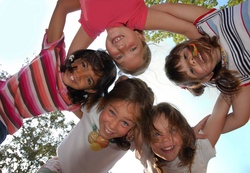 South San Francisco, CA (PRWEB) February 24, 2010
Dragonfly Designs, a jewelry company in South San Francisco, announced its new spring and summer camps for children ages six and up. The company, which also sells handmade jewelry for everyday use and special occasions, is offering week-long, spring and summer camp sessions where children learn jewelry making techniques as well as enjoy morning yoga sessions and educational hikes along San Bruno Mountain near the home-based studio. To view a short video of the Dragonfly Designs camp experience, click here.
During each camp session, boys and girls are encouraged to explore their creativity and are introduced to interesting color and texture while improving hand eye coordination, small muscle development and pattern making skills - all in a relaxed and joyful environment. Each day, children create beautiful jewelry to take home as well as special projects to coincide with the current season. Children are introduced to a range of age appropriate jewelry making techniques and tool usage including copper etching, enameling, felting, stamping and dapping, bead stringing, wire work, resin pendants, finger knitting, hair jewelry and more.
Camp sessions cost $335.00, including all materials, and are held Monday through Friday from 9:00 a.m. to 3:00 p.m. in a modern, safe, home studio located in South San Francisco. Half day camps are also available. Early morning and afternoon care is available for an additional $50.00 from 8:00 to 9:00 a.m. or from 3:00 p.m. to 4:30 p.m.
Jewelry Making Spring Camps
Monday, March 29 through Friday, April 2, 2010
Monday, April 5 through Friday, April 9, 2010
Monday, April 12 through Friday, April 16, 2010
Monday, April 19 through Friday, April 23, 2010
Jewelry Making Summer Camps
Monday June 7 through Friday, June 11, 2010
Monday, June 14 through Friday, June 18, 2010
Monday, June 21 through Friday, June 25, 2010
Monday, June 28 through Friday, July 2, 2010
Monday, July 5 through Friday, July 9, 2010
Monday, July 12 through Friday, July 16, 2010
Monday, July 19 through Friday, July 23, 2010
Monday, July 26 through Friday, July 30, 2010
Monday, August 2 through Friday, August 6, 2010
Monday, August 9 through Friday, August 13, 2010
Monday, August 16 through Friday, August 20, 2010
Monday, August 23 through Friday, August 27, 2010
Monday, August 30 through Friday, September 3, 2010
To register for the Dragonfly Designs jewelry making spring camps or summer camps, please visit http://www.jewelrybydfly.com or call (650) 303-1900. For those who live beyond the service area of San Francisco, South San Francisco and the Peninsula, check your local parks and recreation departments for Dragonfly Designs jewelry camps in the East Bay, South Bay and Marin counties.
About Dragonfly Designs
Located in South San Francisco, Calif., Dragonfly Designs is a socially conscious jewelry company with designs available for purchase online as well as in specialty boutique shops. Each piece of jewelry is handmade with careful attention to originality and craftsmanship using only the highest-quality materials from around the world. At our home-based studio, we offer jewelry making classes and camps for children as well as after school programs, custom birthday parties and home shows for residents in the San Francisco Bay Area. At Dragonfly Designs it is our mission to offer exceptional handmade jewelry and the opportunity to create it, while promoting social justice, personal style and fun. Each month, ten percent of all retail sales are donated to organizations dedicated to improving the human condition (especially for women and children), promoting equality, and protecting the environment. For more information, please call (650) 303-1900 or visit http://www.jewelrybydfly.com
###