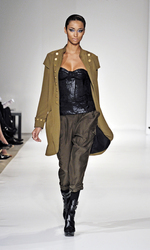 New York, NY (Vocus) February 25, 2010
With New York in the midst of a blizzard, it was easy to connect with the looks shown at the WALTER Fall 2010 runway show; the show took place on Tuesday, February 16 in conjunction with New York Fashion Week. The collection managed to conjure a complete lifestyle in 32 runway looks. The shearling, leather and faux fur vests and jackets, military outerwear and combination of textures and fabrics stirred up visions of downtown New Yorkers and dismissed gender roles and barriers. The utility chic collection redefined the meaning of tomboy, and presented a way to be tailored, relaxed and feminine by combining and layering all of the key material elements of the line.
With mixing and layering fabrics a big story on New York runways this week, designer Walter Baker managed to hit right on trend with this collection. Focusing on fit, Baker put slits and inserts in many looks, and managed to convey a story of what it means to be a working girl with style and edge. The story eliminated the traditional role of a woman and presented a way for a girl to go from her office to a night on the town.
These contemporary silhouettes were highlighted by the addition of graphic print trenches, animal prints and metallic embellishments. The luxe quotient was also plenty eminent. From beginning to end, the entire collection exemplified a combination of edge, attitude and glamour that made it a hit for those in attendance.
For more information please visit: WALTER
Follow us on Twitter & Facebook for the latest updates on WALTER.
###