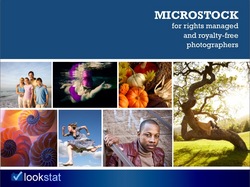 This guide will help RM & RF photographers add another source of revenue to their portfolios
Seattle, WA (PRWEB) February 24, 2010
LookStat announced today that it is releasing a free guide to microstock photography for rights managed and royalty free photographers.
"We often speak with stock photographers who are interested in learning more about microstock but aren't sure where to start. There's a great deal of information for new photographers but there is less out there for professionals looking to diversify their stock revenue streams. We wrote this guide to fill that gap," said Rahul Pathak, LookStat's CEO.
LookStat's free guide to microstock photography contains the following resources:

An overview of microstock and why it matters
How to Get Started in Microstock
Details on submission requirements
Keys to maximizing your microstock earnings
Profiles of the Top microstock agencies
Links to useful resources
Submission checklists
"Microstock is an important and growing part of the stock photography landscape. This guide will help RM & RF photographers add another source of revenue to their portfolios. For those who would like some help with the process, so they can grow efficiently and spend their time shooting rather than keywording and uploading, our Back Office services provide a comprehensive solution, " said Rahul.
LookStat offers keywording, retouching, uploading and analytics services that allow photographers to spend their time shooting, profitably, while LookStat takes care of everything else.
"We finally have time to shoot again! And, we're always amazed by the creativity and accuracy of Lookstat's keywording and uploading. You will never do it better yourself or for a better price, especially when you consider the time it would have taken you away from your camera," said Aurélie and Morgan David de Lossy.
To get the free guide emailed to you and to qualify for a special deal for LookStat Back Office services, sign up now at LookStat.
About LookStat (https://www.lookstat.com)
LookStat provides a full-service microstock photography solution for busy stock photographers. LookStat offers keywording, retouching, uploading and analytics so photographers can focus on what they do best - creating great images. LookStat was founded by Rahul Pathak & Casey Zednick and is based in Seattle, Washington, USA.
###