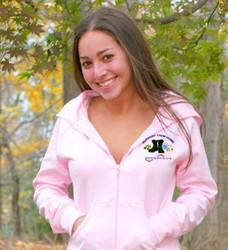 "It is our hope that Boomerang's recognition and inclusion in the Oscar Night celebrity presenter's swag bag will speed our ability to help new causes"
Hollywood, CA, and New York, NY (PRWEB) February 25, 2010
When the world's most talented actors gather at the Academy Awards® next month for recognition as best in their craft, many of these same celebrities will receive prized gift baskets with products carefully chosen from thousands of entries. Hollywood Baskets announced the selection of Boomerang.org's (http://www.boomerang.org) line of charity-related apparel, with its unique grassroots charitable giving system, for inclusion in the "Celebrity Swag Bags" given to the top presenters for the 2010 Academy Awards.
"Boomerang's clothing and the Boomerang.org system is an innovative new way to help a great many people. It's the type of concept that our celebrity clients appreciate finding out about," said Lisa Gal, president of Hollywood Baskets, who's company reviews the Celebrity Swag Bag product and service entries. "With every Boomerang item generating donations on an ongoing basis, the Boomerang apparel may not be the most expensive gift in the basket, but it could easily be one of the most valuable."
The Boomerang charitable giving system is a grassroots movement that gets you personally involved with your favorite cause by wearing apparel tied to that cause. It's a simple--and good looking--way to raise funds for your cause. Boomerang lets you pick the clothes you want and then select the causes you want those clothes to support. Each item is personalized and bar-coded so that additional donations are made to your cause whenever your Boomerang apparel is scanned at partner stores and events. So with Boomerang, your actions keep the giving going.
"It is our hope that Boomerang's recognition and inclusion in the Oscar Night celebrity presenter's swag bag will speed our ability to help new causes," said David Nichols, Founder of Boomerang.org. "Many celebrities have one or two causes close to their hearts and are looking for new ways to get more people personally involved. Wearing Boomerang apparel is a great way to get the word out to their fans."
The Academy Awards will take place on March 7, 2010. While the list of this year's presenters is a closely guarded secret, likely presenters include Sean Penn, Channing Tatum, Kate Winslet, Miley Cyrus, Penelope Cruz, Zac Efron, Kristen Stewart, and Taylor Lautner. Whoever they are this year, you can get a sneak preview of what they'll hear when they open their Boomerang.org card creatively explaining how its charitable giving system works. Check it out here!
About Boomerang.org
Boomerang.org is the charity gift that keeps on giving. It is an innovative charitable giving system which rewards charitable causes with every initial Boomerang apparel purchase, and then ongoing every time you wear the apparel and are scanned by a merchant or event partner. As all Boomerang apparel is personalized with distinct member bar-codes, purchases or visits result in further donations from our merchant partners as well as give back rewards and discounts to Boomerang members.
For further information about Boomerang.org contact:
Gene LaVigne or David Nichols
Boomerang.org
914-205-3279
Please visit http://www.Boomerang.org
About Hollywood Baskets
Hollywood Baskets is the preeminent provider of gift baskets for celebrities and Hollywood's leaders serving the entertainment industry for over 15 years.
For further information about Hollywood baskets contact:
Lisa Gal
Hollywood Baskets
800-379-8219
http://www.HollywoodBaskets.com
###