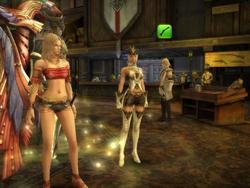 The great thing about Free2Play online MMORPG's is that we can roll out expansions with gamer requested content
Irvine, CA (Vocus) February 25, 2010
Sword of the New World, a premier fantasy MMORPG title of GamersFirst (GamersFirst.com), today released the long awaited Volume 2 expansion of Echoes Of An Empire; last updated in September 2009.
The newest extension of Sword of the New World offers numerous additions to this RPG world including:

2 New UPC's (Ania and Hellena)
New pets (Pigling piggy and Panpan panda)
+5 Expert and +6 General Lacquers (to reinforce Constellation Swords and/or Expert Swords)
A revamped Cash Shop and Feso Shop
And last but not least…

Brand new costume boxes, back costumes and hair costumes that players have been waiting for.
"The great thing about Free2Play online MMORPG's is that we can roll out expansions with gamer requested content," says Myra Widodo, Producer of Sword of the New World at GamersFirst. "We try to integrate parts of what we know will make the game run more smoothly and parts of what our gamers have requested over a period of time, making it a beneficial situation for both parties."
In celebration of the expansion, Sword of the New World is offering a limited time 50 percent experience bonus for any players that login over the next week.
To keep up with the changes and conversations in-game, follow us at these links:
Sword of the New World( Home Page) – http://www.gamersfirst.com/swordofthenewworld
Twitter – @SOTNW
Community Forum(s)- http://forums.gamersfirst.com/index.php?showforum=155&setlanguage=1&langid=en&setskin=1&skinid=11
###