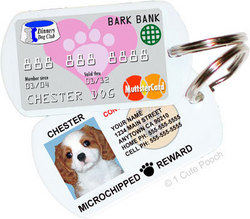 put more than just a name and phone number on a tag
Rancho Cucamonga, CA (PRWEB) February 24, 2010
1 Cute Pooch now offers a unique and humorous twist on the pet ID tag with the addition of their newest design – a parody credit card.
An ID tag is often the only way a lost pet can find its way home, and the more information contained on the tag, the better. As Liz Ng, 1 Cute Pooch's founder observes, "We surveyed our customers and found that many of them liked the idea of being able to put their pet's photo on an ID tag, as well as the ability to customize the information that goes on a tag. They wanted to be able to put more than just a name and phone number on a tag."
On the back of all of 1 Cute Pooch's pet tags is a space to include a photo as well as contact information. Customers can choose to add their name, address, and phone numbers, as well as optional information such as medication or allergy alerts. They can also include microchip or reward information.
1 Cute Pooch launched its first line of custom pet ID tags and accessories in 2006 called PL8S 4 PETS®, featuring tags that looked like license plates from all fifty states in the USA and all Canadian provinces. Following the success of the line, the company introduced additional original designs including the popular Paws on Hearts line, and the humorous Hello Name Tags.
Liz Ng says that she wants to combine the functionality of a pet tag with designs that are eye-catching, whimsical, or make someone stop and smile.
"Our favorite customer feedback came from a customer who bought the Hello Name Tag for his dog, and when he took his dog to the dog park, he received a lot of positive comments and responses from other dog owners. He ended referring a number of customers to our site. The Hello Name Tag is a really simple idea but when it's on a dog tag with the dog's name on it, it's something that makes people chuckle."
The latest design – a parody credit card - incorporates a MuttsterCard logo with tennis balls, and a Dinners Dog Club logo, with a Paws on Hearts background. The background comes in three different colors: pink, blue and orange.
The 'credit card' number is made up of the customer's phone number. The pet's birth month and year is used for the 'Member since' information. The pet's name is printed where the credit card holder's name normally appears.
Like all other 1 Cute Pooch's custom pet ID tags, the tag is made of aluminum and measures 1.125" x 1.875" x 0.04". The design is printed using a process that bonds the inks to the tag. Consequently the design does not wear or rub off with use.
The Credit Card Pet ID Tag can be ordered online at http://www.1cutepooch.com. The tag retails for $17 and the price includes free shipping.
About the Company.
1 Cute Pooch was founded in 2004 and was inspired by Liz's love of dogs and Chester, her store mascot. 1 Cute Pooch offers unique and quality pet supplies, accessories and pet-related gifts, for pets and pet lovers.
Media Inquiries:
Elizabeth Ng
(888) 346-9949
http://www.1cutepooch.com
###