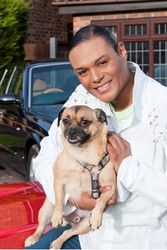 (PRWeb UK) February 27, 2010 -
As the third in Pet Protect's series of 'Celebrity Chats', former model and 80's TV presenter Catrina Skepper visited pop legend Stedman Pearson of Five Star fame, to catch up and find out where he is now.
Recently announced as the lead Michael Jackson role in the hotly anticipated Thriller Live world tour, Stedman Pearson found time between rehearsals to chat to Catrina Skepper about the Thriller Live world tour, which he describes as 'a dream come true', as well as everything from his family and his years in the spotlight, to what his dog Joe means to him and his new album 'Eliminate'. Stedman even offered a sneak preview of his vocal talents, singing his favourite Michael Jackson hit, 'She's out of my Life' for a delighted Catrina.
As one of five brothers and sisters in the 80's pop band Five Star, Stedman enjoyed a string of UK Top 10 hits including 'System Addict', 'Let Me Be The One' and 'Love Take Over'. Twenty-five years later, Stedman is excited to be returning to his performing roots for the Thriller Live world tour. With his softly spoken voice and striking resemblance to the King of Pop, it's easy to see from the interview why Stedman has been chosen to play Michael Jackson in front of audiences across the globe.
Steadman's interview with Catrina Skepper marks the second in Pet Protect's series of 'Celebrity Chats' which profile celebrities who enjoyed the height of their fame during the 1980's, the period when Pet Protect launched and when Catrina, the new face of Pet Protect, was a media darling. 'Celebrity Chats' puts these well-known faces back on the map and enables them to talk about their lives today and the importance of their animals, as well as offering practical pet care tips and advice.
The interview is now live at http://www.petprotect.co.uk/catrina-skepper/stedman-pearson.asp
###