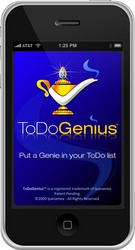 Alain is an extraordinary chief designer
Paris, France and Miami, FL (Vocus) February 27, 2010
Ipanamea, known best for their groundbreaking personal productivity mobile applications, has named Alain Aisenberg to lead their design team.
Aisenberg comes to Ipanamea with over ten years of experience in the development of mobile technologies. He has previously held executive positions at premier companies such as SmartFon, Unitec, and Phone1, as well as being an integral part of various successful ventures in both the United States and in Europe.
"Alain is an extraordinary chief designer," said Bob Krief, CEO and Chief of Marketing at Ipanamea. "We are lucky to have found someone so experienced and equaled in our dedication to efficiency and innovation when it comes to mobile technology."
About Ipanamea
Ipanamea is a team of experienced high-tech engineers and developers determined to use the ever-growing technological capabilities of mobile applications to create revolutionary tools for personal productivity. Their team is located on both sides of the Atlantic, in the USA and in Europe.
*iPhone, iPad, and iTouch are registered products of Apple Inc
###