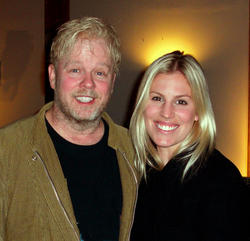 "She goes 100 percent – all the way, which is highly unusual, and it all comes through."
Chelmsford, MA (PRWEB) February 25, 2010
Studio Bopnique Musique (http://www.bopnique.com) announced today the release of Australian singer-songwriter Coby Grant's new EP "Fanfare for Love". This latest collection, recorded in Massachusetts, sees popular songstress Coby Grant take on a new musical direction alongside producer /musician Anthony J. Resta, a veteran of productions including Collective Soul, Elton John, Shawn Mullins, and Duran Duran, and numerous gold and platinum albums.
Anthony J. Resta lit up when interviewed about Coby Grant's new four track EP as it was being finished by him and engineer Karyadi Sutedja. "She goes 100 percent – all the way, which is highly unusual, and it all comes through." Resta excitedly said about Coby Grant's ability to penetrate the norms of pop idioms, combining real life experience and an unusually strong personal presence in her songs.
"All of the songs that I write are about me, and things that happen to me. I am reliving what I am singing about" Coby Grant revealed, as she explained why she traveled all the way from her Australia home to the relative cold of Massachusetts to record with Resta. "I was really impressed and wanted to work with Anthony J. Resta," she said. "I really did a lot of research and was impressed with how he let everyone sound individual. He's able to get into their psyche and what they wanted, and for me it turned out exactly how I imagined it in my head."
Fanfare for Love will launch officially on February 25th 2010, followed by a
National tour. For more about Coby Grant, Australia's fastest rising star and "Queen of Hearts" and to buy her new EP, visit http://www.cobygrant.com.
To learn more about Studio Bopnique Musique and why omni-instrumentalist Anthony J. Resta, and engineer Karyadi Sutedja's unique methods are helping more recording artists realize their professional goals, visit http://www.bopnique.com.
###