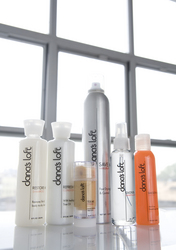 "This has been a dream of mine for quite some time to be able to incorporate my passion for hair care with an initiative to give back and help others,"
New York, NY (PRWEB) February 25, 2010
dana's loft HAIR, a boutique salon in New York City owned by celebrity hairstylist Dana Gibbs, is pleased to announce a charitable initiative to help various charities in 2010. Each month proceeds from the sales of hair care products from the "ME Collection" by dana's loft HAIR, will be donated to a specific charity. Products are available online at http://www.danasloft.com or at the salon at 96 Orchard Street in New York City.
Throughout the year of 2010, dana's loft HAIR will donate to charities that support causes such as Multiple Sclerosis, mental illness, domestic violence, AIDS, hunger, education, breast cancer, diabetes, children, homelessness and the arts. "This has been a dream of mine for quite some time to be able to incorporate my passion for hair care with an initiative to give back and help others," said Dana Gibbs. "I see this as just the beginning to my charitable endeavors. My goal is to establish my own foundation in the next two years."
dana's loft HAIR's "Year of Giving" kicked off on February 16th with a collaboration with Beauty with a Purpose: For the Love of Haiti during New York Fashion Week. The brainchild of Haitian-born manicurist Myrdith Leon-McCormack who lost several family members in the tragedy, the event held at The Melange Salon in The Peninsula Hotel in NYC. Ms. Gibbs donated 50 bottles of SMOOTH ME Leave-In Anti-frizz Smoothing Cream from The "ME Collection" by dana's loft HAIR to the Beauty with a Purpose Gift Bags. In addition, $1 from each bottle sold of SMOOTH ME from February 16 – December 16, 2010 will be donated to the cause. SMOOTH ME is a botanically rich leave-in conditioner and styling balm made with panthenol which seals the hair shaft, moisturizes the hair and adds shine, chamomile flower extracts which calms frizz, straightens and controls tightly curled hair and other plant and fruit extracts giving extraordinary shine and manageability ($12 – 4oz).
MS Awareness Week in March 8-14 and $1 from each bottle sold of her fabulous GLOSS ME high shine spray will be donated to a Multiple Sclerosis charity for the month of March. Ms. Gibbs chose this organization in honor of her sister who suffers from the disease. GLOSS ME is alcohol free, has a protective sunscreen that helps prevent sun damage, and will add an instant brilliant shine to dry or dull hair.($14 – 4oz). SMOOTH ME and GLOSS ME can be purchased at http://www.danasloft.com.
About dana's loft HAIR
New York City hairstylist, Dana Gibbs, has worked with a bevy of beauties in the entertainment world such as Rihanna, Lauryn Hill, Michelle Williams (formerly of Destiny's Child), Angie Stone, Vanessa Williams (Ugly Betty), Raven Symone, Tocara (America's Next Top Model), and Corinne Bailey Rae. Her work has been seen on such television shows as: The View, Live with Regis and Kelly, The Apprentice, Inside Edition, Good Morning America and The Today Show and featured in national and international magazines such as WWD, Bridal Hair, Essence, Jewel, Vibe, Upscale, and Heart and Soul.
Dana is sought after for her exquisite hair colors, trendy haircuts and fabulous extensions – her areas of expertise. Her goals have always been to inspire trends and give every client the individualized look they deserve. With that in mind, Dana opened dana's loft HAIR in NYC in 2008 – followed by the launch of her innovative line of hair care products, the "ME Collection" by dana's loft HAIR. She also works in London at the Junior Green Hair & Beauty Salon located in Knightsbridge one week each month. The Salon is located in one of London's most exclusive neighborhoods at 39 Knightsbridge, London SW1X 7NL.
Dana seeks to share her passion, expertise and love for hair care. Through this brand, Dana, the stylist, the woman, shares a little secret… With dana's loft HAIR, Dana Gibbs offers us all the gift of BEAUTY. At the essence of her endeavor lies her desire to provide women with access to the quality products best suited to their hair care needs. For more information please visit danasloft.com, facebook.com/danasloft, twitter.com/danasloft or call 212.677.7701.
Press Contact:
Dana Hill – 646.599.7279
###