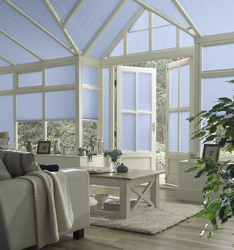 This has been our best experience with any company (Thomas Sanderson) from beginning to end...
(PRWEB) February 25, 2010
With over 20 years experience in shading and styling for the home and conservatory, Thomas Sanderson are the UK's leading made to measure Blinds and Shutters specialist. More than 150,000 homeowners have chosen to improve their homes with Thomas Sanderson because of their superior quality products, backed by a first class local service – nationwide.
It's the world class products, backed by that personal touch that makes Thomas Sanderson the nation's favourite Blinds and Shutters specialist and it's why over 10,000 customers choose to improve their homes with them each year. See here what some of their customers have to say:
"We wanted to say a big thank you for all the time and effort you put into giving us the perfect finish to our conservatory. The blinds have made a big difference to the appearance and warm feeling of the conservatory. We would have absolutely no hesitation in recommending Thomas Sanderson," Mr and Mrs Fieldsend, Derbyshire.
"I was so pleased with my conservatory blinds that I thought I would let my friend know about Thomas Sanderson when she needed some blinds. They're brilliant and do everything Thomas Sanderson say they will. My friend loves them too," Mrs Tyler, Cardiff.
"We recently had blinds fitted in our new conservatory and I have to thank you for such an excellent product, they have made it a very tranquil place to sit even on the hottest day," Mrs Aplin, Hampshire.
"This has been our best experience with any company from beginning to end, from surveying and fitting through to installation of our brand new window shutters," Mr and Mrs Shepperson, Redhill.
"I can`t believe how quickly we had our blinds fitted and although more expensive than other companies your blinds are a different quality altogether. The blinds have made a real difference to my conservatory, they fit so well and the service provided was 1st class," Mr Holding, Shrewsbury.
Helen Sanderson, Head of Design at Thomas Sanderson said, "Our number one goal here at Thomas Sanderson is to continue to delight our customers for the next 20 years by exceeding their expectations with our 1st class service and stylish products."
About Thomas Sanderson
Since 1991, Thomas Sanderson has grown from a family run business to an international company offering products and services throughout the UK and Ireland. The company is Europe's largest manufacturer and supplier of conservatory blinds in addition to supplying window blinds and window shutters.
Thomas Sanderson has remained true to its roots, offering a local service and continuing to make its relationship with each and every customer its main priority. The company takes pride in ensuring the standards of service on offer match the high standards of its products.
Established as the market leader for over 20 years, Thomas Sanderson now offers businesses the opportunity to be associated with a national company, backed by local service. Thomas Sanderson has developed 'refer and reward' partnerships with over 1300 home improvement specialists, allowing them to offer their customers a complete range of products that add the finishing touches to any home improvement project, and with minimum fuss.
###