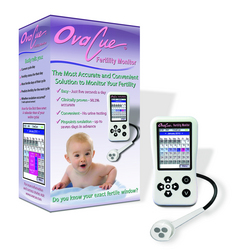 "After using it for just 4 cycles I became pregnant-this product is incredible. I have always had irregular cycles and had been trying for 3 years to conceive our second child-I am still a bit shocked, but blood test confirm-I am pregnant! Chirstine, DC
Denver, CO (PRWEB) February 26, 2010
Women who are having difficulty becoming pregnant have a new option for maximizing their chances of conceiving. Zetek, Inc., now offers a fully automated version of their popular OvaCue monitor. Using a small oral sensor to measure electrolytes in the saliva, a handheld "ovulation computer" predicts the most promising time for intercourse – up to seven days in advance.
This technological breakthrough allows a woman to see how fertile she is on any given day by moving through a calendar, just as she would on her cell phone. Each day is color coded with higher fertility in darker colors and the ovulation day clearly marked in pink. Several months of data can be stored in the calendar and viewed with the touch of a button, similar to the interface of popular music players. OvaCue represents a paradigm shift for women wanting to visually track fertility over time.
To use the OvaCue, a woman simply places a sensor the size of a quarter on her tongue for three seconds each morning. The OvaCue uses the patented Electrolyte Method to analyze hormonal changes and predict ovulation up to seven days in advance. Studies show that OvaCue predicts ovulation with 98% accuracy and is the only Fertility Monitor that can identify a woman's complete fertile window. Validity has been established through numerous studies, including those sponsored by the National Institutes of Health and conducted at the University of Colorado Health Science Center.
While there are other fertility monitors available, most require daily urine samples or other inconvenient collection methods and none combine the ease of use, accuracy and the predictive ability of OvaCue. The OvaCue has been cleared for use by the U.S. FDA and the Vatican and is recommended by doctors and infertility specialists. OvaCue has already helped thousands of couples conceive and is currently the best method available for women to know when they can get pregnant.
# # #