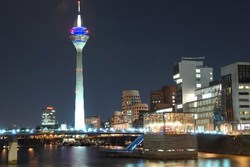 Düsseldorf, Germany (Vocus) February 25, 2010
40 museums and cultural institutions will keep their doors open late on May 8, 2010, and attract and entice a much wider community. The city's varied art venues will merge into a close-knit network of connected indoor and outdoor art event experiences and special exhibits, complete with special transportation options, all available on one ticket.
The collaboration of museums connects Düsseldorf's world-renowned museums, smaller art venues, and other locations that will feature related events just for the night. The event seeks to draw a wider audience to the city's art and exhibit spaces, and last year's event drew more than 22,000 art enthusiasts.
Düsseldorf houses and produces some of the best contemporary art in the world. Several of the world's best-known (and expensive) artists have their roots in Düsseldorf, chief among them Andreas Gursky, Joseph Beuys, Gerhard Richter, Jörg Immendorff -- all graduates and faculty of the city' renowned Art Academy. Of Düsseldorf's 100 galleries and 26 world-renowned museums in Düsseldorf, including K20 & K21, (showing 20th and 21st century art, respectively), most will be participating in "Night at the Museums" -- enough to keep any serious art enthusiast busy for days – and nights.
Düsseldorf is at the center of Germany's Ruhr area, which is the 2010 European Capital of Culture. Find more information about the many events at http://www.ruhr2010.de.
For more information on Night at the Museums, please visit http://www.visitduesseldorf.de. Düsseldorf, only a short distance from many major destinations, makes possible easy travel to the Rhine-Ruhr area, Cologne, Belgium, and the Netherlands, as well as many opportunities for short and long-term stays.
Düsseldorf International Airport, Germany's third largest, offers several non-stop flights from US & Canadian cities (Atlanta, Chicago, Ft. Myers, Los Angeles, Miami, New York, Newark, Toronto, San Francisco, Vancouver), as well as convenient connections to many European cities and beyond. For more information visit http://www.fly2dus.com.
Düsseldorf Tourism & Marketing GmbH is the visitors and convention bureau of the city of Düsseldorf. Its services include tourism and city marketing, conference and meeting marketing, hotel reservation services, fairs and convention services, city event ticket sales and advance ticket reservations. For more information, visit http://www.duesseldorf-tourismus.de or http://www.visitduesseldorf.de
###