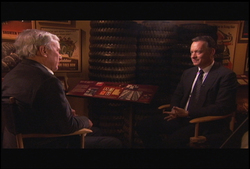 Now, at this critical crossroads in the nation and in their lives, what do boomers do next – and how do they get there? It's a question that affects all of us and will for a long time to come, said Brokaw.
Englewood Cliffs, NJ (PRWEB) February 25, 2010
They were born between 1946 and 1964, a vast and prosperous group of Americans who lived through the Cold War, Vietnam, Watergate and the housing bubble. They wore Buster Browns, played with hula-hoops, ate at the drive-thru and watched the Beatles play on "The Ed Sullivan Show." Raised during a time of unprecedented affluence, they exhibited extraordinary optimism and faith in the future. Now, as the oldest among them approach the age of retirement, they face a world of new challenges and opportunities they never anticipated or dreamed possible.
On Thursday, March 4th at 9PM ET/PT, CNBC presents a CNBC original reported by NBC News Special Correspondent Tom Brokaw. After defining "The Greatest Generation" in his bestselling book, Brokaw now turns his sights to their successors, the generation that vowed to change the world.
"Now, at this critical crossroads in the nation and in their lives, what do boomers do next – and how do they get there? It's a question that affects all of us and will for a long time to come," said Brokaw.
In a landmark two-hour documentary, CNBC, First in Business Worldwide, and Brokaw take viewers on a provocative and evocative journey down memory lane and peer into an uncertain future. From Woodstock to the civil rights movement, in war and politics, Brokaw chronicles the extraordinary impact 78 million baby boomers have had on American society over the past six decades. He sits down with a fascinating cross-section of boomers to talk about their generation's life and legacy, including U.S. Senator and Vietnam veteran James Webb; Anne Mulcahy and Ursula Burns, chairman and CEO, respectively, of Xerox Corporation; author and critic Michael Eric Dyson; and political satirist P.J. O'Rourke. Brokaw also profiles quintessential boomer actor Tom Hanks, and has an intimate and gripping conversation with the parents of Denise McNair, the 11 year-old girl slain, along with three friends, in the 1963 Sixteenth Street Baptist Church bombing in Birmingham. That infamous episode brought the first casualties of the boomer generation in a civil rights struggle that led to the election of the nation's first black president. That transformation, together with historic advances made by women in all aspects of American life, is captured as part of the story of a generation that has delivered on some of its promises but not – as yet – on others.
Brokaw also introduces viewers to everyday boomers and their children -- real people who have lived through unprecedented prosperity and now find themselves facing significant financial, physical and social challenges. For years, by their sheer heft in numbers, baby boomers altered the economy, and now, it has altered them. After experiencing historic wealth, many boomers now find themselves likely to outlive their money. Brokaw captures the stunned disbelief of a downsized generation that never saw it coming and that now confronts rising unemployment and dashed dreams of retirement. He also examines the boomers' unique and unyielding quest to preserve their youth, leading one writer to describe these children of Woodstock as, "Generation Ageless."
For more information including web extras and extended video clips, log onto http://boomers.cnbc.com.
Mitch Weitzner is the Senior Executive Producer of Tom Brokaw Reports: BOOMER$ Jonathan Dann is the Senior Producer. Ray Borelli is the Vice President of Strategic Research, Scheduling and Long Form Programming.
Tom Brokaw Reports: BOOMER$ will re-air on CNBC on Saturday, March 6th at 7PM ET, Sunday, March 7th at 9PM ET and Monday, March 8th at 8PM ET.
About CNBC:
With CNBC in the U.S., CNBC in Asia, CNBC in Europe, CNBC World and CNBC HD+, CNBC is the recognized world leader in business news and provides real-time financial market coverage and business information to more than 95 million households in the United States and Canada. The network's 16 live hours a day of business programming in North America (weekdays from 4:00 a.m.- 8:00 p.m.) is produced at CNBC's global headquarters in Englewood Cliffs, N.J., and also includes reports from CNBC News bureaus worldwide. CNBC.com and CNBC Mobile Web () offer real-time stock quotes and charts, CNBC's breaking news & analysis, market and pre-market data. Additionally, CNBC.com provides videos, live streaming of events and market opens in Asia and Europe, and industry and topic-specific blogs from our award winning reporters and guests.
Members of the media can receive more information about CNBC and its programming on the NBC Universal Media Village Web site.
###