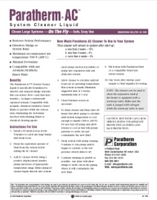 It operates while the system runs, eliminating the "downtime" involved with flushing fluids...
West Conshohocken, PA (PRWEB) February 25, 2010
Paratherm Corporation introduces Paratherm AC(tm) System Cleaner Liquid, a specifically designed cleaner for large systems using aromatic/synthetic-based heat transfer fluids.
The AC Cleaner is specifically formulated to dissolve and suspend sludge deposits that can reduce flow and heat transfer, diminishing system effectiveness. It operates while the system runs, eliminating the "downtime" involved with flushing fluids or the use of chemical cleaning agents.
The AC Cleaner maximum recommended use temperature is 550F (288C). While Paratherm AC System Cleaner Liquid is both safe and easy to use, specific details and instructions for use are available from Paratherm technical specialists or from Paratherm's web site, http://www.paratherm.com.
Founded in 1988, Paratherm Corporation has become a leading U.S. manufacturer of specialized heat transfer fluids and system cleaners. The firm offers a wide range of heat transfer fluids (currently 11 fluids and 3 cleaners) covering temperatures from -141F to +675F. Paratherm serves a diverse number of industries including the chemical industry, food processing and plastics manufacturing to name a few of the more prominent ones. The company has a network of distributors and warehousing locations throughout North America (as well as worldwide) to offer regional service and quick delivery.
Paratherm's efforts have long been focused on their clients' applications, systems, and operations with expert assistance and quick turnaround being top priorities. Orders can be filled quickly Orders can be filled quickly—and in urgent situations very quickly—because the company stocks product in numerous North American locations and overseas in Europe, South America and Asia. Stocking and sales locations outside of the United States include: Canada, Mexico, Brazil, Argentina, Guatemala, Netherlands, Belgium, Denmark, United Kingdom, Australia, China, Japan and Thailand.
Paratherm Corporation's Immersion Engineering™ Services, delivered to users of all brands of heat transfer fluids, offer system and application expertise, including:

Fluid Analysis • Fluid Maintenance • Training • Troubleshooting • Consulting
For information on Paratherm fluids for hot and cold process applications – contact Andy
Andrews at Paratherm Corporation, 4 Portland Road, West Conshohocken, PA 19428 USA or call 800-222-3611 or (610) 941-4900; fax 610-941-9191;
# # #